The Original and #1 Website for Security Guard Training
Online Security Guard Training and Career Center
Welcome to Security Guard Training Headquarters! We have everything you need to make your life easier as you begin your career as a security guard officer. State specific training requirements, a step-by-step hiring process, potential employers and interviews to help you get hired are just some of the helpful things you'll find here.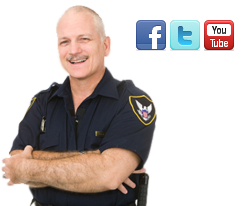 Completing the necessary security guard training to get your security license in Canada is the first step into an exciting new career. As a bodyguard, doorman, event specialist, or coordinator, you'll have the chance to travel, work in tight nit teams, and tackle the snot out of people.
A life in the world of private security can be just as exciting as any law enforcement or military career. Lets take a look at the basic steps involved if you're thinking of pursuing this path, and what obstacles you should expect along the way.
Security Guard Training in Canada
Today, protecting assets is extremely important, which makes the market for security guards in Canada vigorous, with a high demand for competent individuals with the necessary training. Completing the security courses and finding your first gig is always the start of an interesting career.
Experience not having the same day twice and be tasked to do vital responsibilities. If you think you love helping and protecting others, or you naturally have a strong sense of duty and eye for details, this profession could be fit for you. Before getting hired, like most countries, you need to
Bodyguard Job Description
A security guard
is paid to protect people and property. They are uniformed personnel who protect property by maintaining high visibility in the area of assignment. They are there to deter inappropriate actions by observing through a number of ways, taking action and reporting any incidents to their client or people in authority. Most security companies ask their guards to detect, deter, observe and report crimes or other incidents.
Staff are not required to arrest, but are authorized to perform citizens' arrest. Aside from basic deterrence of crimes, they are trained to perform special tasks such as arrest and control, operate emergency equipment, perform CPR and first aid, and write detailed reports. The work of security guards in Canada can differ depending on their area of assignment or whom they are working for.
Private security companies in Canada fall under the jurisdiction of individual provinces and territories. They regulate the contact security services, including regulating the use of weapons and handcuffs. The federal laws of the country restrict the authority of security guards to be armed.
For example, the security guard license Ontario process of training is a little different than in Ontario. Of course the entire country has overseeing laws, but you may run into slight complications when transferring your certification between the territories.
After Obtaining Your Security Guard License
Security guards and bodyguards in Canada are classified according to their area of assignment and who they work for. Responsibilities may vary from one type of security job to another. If you intend become part of the industry in this country, here are your job options:
Standard Security Guards: Standard security guards work for private security company that assigns them in different locations. They are who we typically see inside commercial premises, guarding people and assets.
Airport Security Guards: As the name implies, these are guards assigned to provide security in airport premises. Locations that have a high demand for security require security personnel with specialized training on protecting passengers not just with their belongings but also against threatening events.
Crowd Control Guards: These guards specifically aim to manage crowd behavior during events. They are usually hired by big event organizers.
Static Security Guards: They are called static guards because they are typically stationed in just one place, unlike patrollers who are tasked to check a particular property. Static guards may be asked to monitor CCTVs or inspect bags.
Mobile Guards: they are also called patrollers since they are responsible for guarding an area by checking it every now and then.
Body Guard: Similar to personal bodyguards, private guards protect a specific person or a group of people.
Necessary Security Guard Training in Canada
In Canada, individuals
who are interested to become a security or bodyguard must adhere to the regulations of the Private Security and Investigative Services Act of 2005. They must always carry a valid license while performing their duty.
To get a license, they must at least be 18 years of age, a Canadian citizen, a permanent resident or a worker with a valid working visa. They must also have a clean criminal record. In some provinces, like the Nova Scotia, an applicant must be at least 18 years of age, and those with peace officer status and are active members of the police service cannot be granted a security guard license.
Applicants for security and body guard licenses must complete training courses for security guards. These can be acquired from a wide variety of colleges, and private law enforcement schools. They can apply for a security guard and private investigator license, a dual permit, but they need to take up necessary training, specifically the private investigator course.
The Ministry of Community Safety and Correctional Services requires a 40-hour mandatory Security Guard Preparation Course. This can be taken online or at a traditional classroom setting. As prescribed by the Ministry, it contains 12 modules that include an introduction to the security company world, the industry's code of conduct, basic procedures, report writing, health and safety, emergency response, Canadian legal system, legal authorities, effective communications, sensitivity training, use of force theory and first aid certification.
Once this course is successfully completed, the security guards exams can be taken, and the license applied from the Ministry. The exam is also prepared by the Ministry. It is composed of 60 questions in multiple-choice format, which has to be completed within two hours and booked in advance through the Ministry.
Training courses required to become a licensed body guard in Canada are offered by public universities, community colleges, agencies licensed to conduct services and registered employers who employ in-house security staff, but they can only train their own employees.
The final step in becoming an official worker in Canada is applying for a security guard license from the Ministry of Community Safety and Correctional Services of the province where they intend to work. Additional requirements include a photograph, training completion number, valid identification and guarantor information form.
To be sure, it is best to check with the Ministry the list of licensed training providers who have agreed to provide courses in accordance with the regulations of the Private Security and Investigative Services Act of 2005. The fees depend on the training provider. The basic training for body guards is at least 40 hours long, while the basic training courses for private investigators are at least 50 hours long. Dual licenses are at least 90 hours long, including the Emergency Level First Aid certification.
Online Security Licence Options
Classroom-based and web-based courses are offered for interested trainees. Online courses should include real-time interaction with the trainer. The security guard training is designed to ensure that all incoming guards have the necessary skills and knowledge to perform their work professionally, safely, lawfully and effectively. They must be aware of their duties, responsibilities and even their limitations. A training completion n umber will be given by the training provider upon completion of the training, and this will be needed for the test.
The basic testing fee is at 60 CAD plus 13% HST and is available in English and French. Results are available within five days from the date it was taken. If you pass, you can proceed with the license application. If not, you can retake the test as often as necessary. The Ministry provides preparation checklist directly from their website, so you can better prepare for the exams and have greater chances of winning, to save time and money.
Specifics of the Canadian Security License
A valid license is a basic requirement to work as a certified personnel in Canada. This can be applied through the Ministry of Community Safety and Correctional Services. To be eligible for a license, applicants must be 18 years old or above, are allowed to work in the country, and have a clean criminal record. Before applying, a basic training course must be completed, and a basic test must be passed. This applies to both security guards and private investigator.
To carry out a renewal, you'll need to contact the same ministry about the security guard license renewal. Its different depending upon what degree of permits you have, but isn't expensive compared to what its worth. Renewals aren't too painful, and typically only require a few sheets of paperwork and in some cases retesting.
The license can be applied online or by mail. If you opt to have it processed online, you can check the application status within two business days. You can access a printable license as soon as it is approved, until the official plastic license is received by mail. The complete application process can take up to 30 days. The license will expire two birthdays after the day it was issued. This has to be carried by a security guard every time he or she is on duty.
To avoid problems with your application for security license, use the step-by-step guide provided to complete all sections of the form. Make sure to attach all the required documents. If there are uncertainties, you can always contact a Customer Service Representative from the Ministry. It is important to print or write entries clearly, so that the form can be read easily. The documents must be legible for scanning. Avoid using correction fluids on the form, instead, cross out the mistakes and write the correct data beside the error and sign your initials. Remember that incomplete applications and unacceptable identification and photos can delay the processing of the license. Double-check the checklist of requirements before submitting the forms.
Average Salary of Security Guards in Canada
Like other interested
individuals who would like to penetrate the security companies in Canada, you probably want to find out how much you can earn from this job. A standard BST training certified staff member earns an average of 10 to 16 CAD per hour, which could equate to a salary of 21,000 to 37,000 CAD a year. Overtime pay rate is at 8 to 26 CAD.
Senior security guards who are expected to write some paperwork receive an hourly rate of 11 to 17 CAD, or 22,000 to 43,000 CAD per annum, with overtime rate of 11 to 37 CAD. The number of experience in this industry counts a lot. If you have at least 5 years experience and a bachelor's degree, you can become a security manager who is paid of about 39,000 to 94,000 a year. There are differences in pay rate because the amount still depends upon the company and the province where you work from.
Security Guard Jobs Toronto
If you're in Toronto or plan on moving their after receiving your training and completing all necessary courses, you'll be happy to know the region is absolutely packed with security companies constantly looking for the next hire. The competition is there, make not mistake. You'll have to hunt around a bit to find the best guard security for you and your career paths.
Just having a license and even a little experience will in now way guarantee that you find work. You'll need a professional demeanor, a well written resume, and even recommendations from previous work or instructors to land any job of significance. Ontario security guard license requirements vary from Toronto and the rest of the country. And in some cases its best to ask the hiring agencies at your dream security companies what their requirements are, and work your way to that goal from there.