The Original and #1 Website for Security Guard Training
Online Security Guard Training and Career Center
Welcome to Security Guard Training Headquarters! We have everything you need to make your life easier as you begin your career as a security guard officer. State specific training requirements, a step-by-step hiring process, potential employers and interviews to help you get hired are just some of the helpful things you'll find here.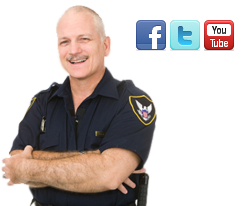 Completing the proper bodyguard training courses will open up a world of new career opportunities for you in the world of security jobs and protective services. It doesn't really matter which security company you start out working as a body guard for, all of them will add experience to your resume and get you one step closer to the more exciting, higher salary positions.
There's always a demand for more security guards in just about every populated area in the country. From event security to bodyguard jobs, the opportunities are out there. But before you dive into the work, you must complete the necessary online security courses, especially if you're thinking of doing any armed guard work.
Security Jobs In Australia
Security jobs are some of the most difficult in the world. As this sort of job entails a lot of work and puts you at risk, it is quite a taxing job. However, many still opt to undergo online security guard training to be able to work as a full-fledged security guard in Australia with qualification from the proper online security courses. Anyone employed in a bodyguard position within Australia must have the proper security license. Each of the two territories and six states in the land down under have separate legislation concerning their different security courses and requirements.
Licensing handling is varied and carried out by the Justice Department, Attorney General's Department, Police, or the Department of Consumer Affairs. The term security guard is most frequently used to describe these positions, whether privately contracted or working for a public body. They have strict requirements when it comes to badges and uniforms. These two should not be confused with those of a police officer's or Australian defense forces. They are allowed to carry firearms and handcuffs with the appropriate sub-class accreditation to their license and when they role requires them to do so, but only when at work.
Job Description
Security companies in Australia employ bodyguards and staff to provide protection for people, property and other assets, and to maintain crowd control. They are tasked to patrol private and public premises, checking for unlawful acts or unauthorized entry. They are responsible for reporting suspects to police, and when appropriate, holding suspects until police arrives. A security guard may also be tasked to monitor visitors to a site. They record time of their arrival and departure, and issue them an appropriate pass once they are permitted to enter the premises.
Types of Security Jobs in Australia
Bodyguards and other staff in Australia may differ in their specializations and employment opportunities. A standard professional performs the responsibilities mentioned in the security guard jobs description, but they may have different roles depending on their area of assignment.
Event Security or Doorman: They maintain safety and order at public venues or events where large crowd is expected.
Bodyguard: Bodyguard positions vary greatly depending upon your employer. Some clients require helicopter licenses and a familiarity with all firearms while others just want a big guy to walk them into rooms.
Mobile Patrol Officer: This sort of security officer is tasked to regularly check properties to deter criminal activity and ensure they are safe and secure.
Railway Patrol Officer: They are responsible for maintaining a secure environment for passengers and workers on rail stations. They patrol trains and stations, and when appropriate, even the roads alongside stations.
Store Security Officer: They work in retail stores to monitor shoplifting and other prohibited acts.
Airport Security Officer: They are trained to provide high level of security required in different facilities of an airport. They screen passengers and their baggage and detect potential security risks.
Obtaining a Security License in Australia
To become a security officer in Australia, you must complete the training requirements of your state's police. This training has to be acquired from a Registered Training Organization (RTO, accredited by the state's police. Interested trainees need to complete Year 10 education to get into one of the training programs. You can simply visit the police website of your state to check the list of RTOs.
Some courses that are part of security guard training:
Security Licence Basics– This
particular course would include details on security operations. It also includes subjects on how to deal with basic security equipment. This course will also have classes and units on how you can patrol. This course will also teach you how to protect yourself and other people with the use of defensive tactics. You will also be taught the use of communication systems that would be required of you as a security guard.
Bodyguard and Staff Professionalism– This course will teach you ways on how to effectively establish good working relationships. This course will also teach you how to ensure that you will be able to effectively create a safe working environment. You will also be taught how to communicate effectively. You will also be taught ways on monitoring and reviewing security operations. Threat and risk assessment will also be taught throughout this course.
Safety Awareness– This course will provide you with knowledge on first aid. You will be taught proper skills that would entail good knowledge of first aid. You will be taught to administer CPR, how to manage bleeding and burns.
Investigative Training– The course is best for those who wish to eventually veer their career paths to the police force or private investigations. Completion of this course is a requirement for the release of a license for private and civil investigators. Therefore, if you wish to head off to the police after completing your security guard training, it is best that you complete this as well. This certificate will allow you to investigate the behavior of individuals or corporations. You will also be allowed check into the character of individuals. Moreover you will be able to perform surveillance work and look into cases of missing persons.
Awareness Security Course – This certificate can be obtained if you feel that you already have certain skills and knowledge pertaining to the law and certain investigative practices. With this, you will be able to continue on certain career paths.
The Start of Security Courses
Once you qualify for the training program, you will be able to start your training under any of the accredited Registered Training Organizations. All the accredited Registered Training Organizations are top providers of security guard training. They all have undergone rigorous screening to ensure that they are indeed qualified to train you. Most of the trainers are professionals who hold university degrees and are extremely qualified to train you in emergency services, protection, and body guard positions. They also train you well in risk management. That way you will be able to easily handle stressful situations that are part of your job.
Once you successfully complete your training, you can go to the next step, which is to undergo criminal history check and provide character references to the police department of your state. Once you acquire your license you can opt to be an apprentice, which allows you to learn the skills on the job. You may enter a formal training contract with your employer and you spend most of your time learning practical skills while working. You can also spend time taking structured training with your choice registered training provider. They will assess your skills and award you with a nationally recognized qualification. Even if you are still in school, you can acquire your apprenticeship training through the school itself.
On Completing Your Security Guard Training
Students will have the option to complete the modules in the classroom or through online education. All the material will be given to you in hard copy, via CDs or they can be downloaded through the website.
Students are allowed to work through the subjects according to their own time and pacing. That way their facilitator can be sure that they know the subject matter well. Once completing the tasks, students will be asked to send their requirements to their facilitator via post or through email.
Aside from classroom requirements, you will be given practical training to assess your skills and prowess in this field. Practical training will take place in a designated open space that allows you to complete tasks that will entail good knowledge of security and risk management, among other things. This practical training will actively engage in simulations of real life threats.
Applying for a Security License
To work as
a security officer in Australia, you need to get a license. However, licensing requirements vary from each state and territory. You may visit the website of the licensing regulator of the state where you choose to acquire your license. Generally, the application form can be downloaded from their website and once you fill it up and complete the requirements, you can submit it to them together with the payment for approval. They will determine the training you have completed, and criminal background.
You can choose to apply for the following licenses: "Officer, Cash Transportation, k9 security, Bodyguard, Security Officer monitoring station, Crowd Controller, Investigator or Consultant advising on watching guarding and protection of property."
You will get the results of the application from your department. They will decide as to whether you have passed and will be able to attend the training program for body guards.
Allow about 20 working days for the department to go through your documents and the intensive criminal check.
Average Salary of Security Guards
You surely want to know how much a bodyguard in Australia earns. Pay rates may vary and depend on their employer and specialization. Standard licensed security officers have an hourly rate of AUD 17.2 to AUD 26, which gives them AUD 35,000 to AUD 60,000 annual income. Senior security guards, or those who have completed apprenticeship and formal training and about 3 to 5 years working experience can earn AUD 39,000 to AUD 76,000 AUD a year, with an hourly rate of AUD 17 to AUD 29. If you have more experience and a bachelor's degree, you can hold a higher position, which allows you to earn more.