The Original and #1 Website for Security Guard Training
Online Security Guard Training and Career Center
Welcome to Security Guard Training Headquarters! We have everything you need to make your life easier as you begin your career as a security guard officer. State specific training requirements, a step-by-step hiring process, potential employers and interviews to help you get hired are just some of the helpful things you'll find here.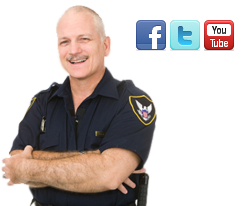 If you live in Chicago or the surrounding area and want to work as a security guard, there are some special training requirements that you need to fulfill first before you can become employed.
There are two basic levels of security guards in the industry: unarmed, and armed.
Armed, of course, means you have the permit that's required to carry a firearm, which involved additional training, however let's start with the unarmed requirements.
Click here to see the armed training requirements if you are already an unarmed security guard and have your PERC Card.
Security Guard Training Requirements
In order to become a security guard in the entire state of Illinois, you're first going to need to obtain a PERC Card.
A PERC Card, otherwise known as a Permanent Employee Registration Card, illustrates that you have passed specific background checks by a fingerprint submission process.
To apply for a PERC Card, you can click here to find the application on the Illinois Division of Professional Regulations website. (See Licensee Application Forms)
Please note the following:
You must be 18 years of age or older to apply for your PERC Card
You must be able to provide your Social Security number.
There is a non-refundable $55.00 fee that is made payable to the Department of Financial and Professional Regulation.
You must attach a photo to your application.
You must submit security clearance documents.
The documents mentioned above are outlined in the PDF file for the PERC Card and you can get those by submitting a fingerprint and completing the scanning process. There is a long list of LiveScan Vendors who will be able to take and submit your fingerprint for you – many of which are in the Chicago area.
The process is pretty straightforward once you download the document.
After you receive your PERC card, you are then able to become employed as a security guard in Chicago, however you may be required to tack on an additional 20 hours of training. When you work with an employer they will be able to fill you in on the details.
Many of these courses are offered at local community colleges and adult schools in the Chicago area.
We wish you the best of luck on your journey to become a guard in Chicago!
Obtaining Your Firearm Card
In addition to the above requirements, in order to carry a firearm and obtain your armed security guard license, you must successfully complete 20 more hours of firearms training.
Firearms training includes handgun safety, handling your weapon and practice on the firing range with a handgun, which will most likely be provided for you.
Each person who is qualified must be able to shoot 50 rounds from a handgun with 70% accuracy in order to pass and receive a permit. More details will be given during training.
Click here to see more information about the Firearm Training Course and the firearm card.
We wish you the best of luck on your journey to become an armed guard in Chicago!