The Original and #1 Website for Security Guard Training
Online Security Guard Training and Career Center
Welcome to Security Guard Training Headquarters! We have everything you need to make your life easier as you begin your career as a security guard officer. State specific training requirements, a step-by-step hiring process, potential employers and interviews to help you get hired are just some of the helpful things you'll find here.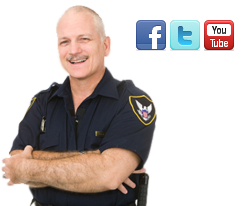 GOING FROM SECURITY GUARD TO POLICE OFFICER IN A FEW EASY STEPS
If you are already working as a security guard you are heading in the right direction. It takes more than guarding inmates and testifying in court to make a police officer. To go from one position to the next, it takes more education and a lot more training.
Let's take an in-depth look at what it takes to make the transition from one to the other.
1) The degree. Some states look for extensive college work, others do not. Some states only look to a high school level education. In order to go further, you need to do more.
Your main goal is to approach it from the criminal justice or police science point of view. This is going to be your bread and butter, so this needs to be your focus. If you are going to go to college, a criminal justice degree is going to be very beneficial. You could also go the police science route or some other related field.
2) Your next step is to build up your physical endurance. You are going to need strength to get through the job. Look at how often you exercise or hit the gym. Speak with some other police officers in your area. Find out what these guys recommend.
Is there something more that you can do?
You will have to chase down people on a regular basis. This requires you to be an athlete on many levels. Are you already an athlete? This will only help to improve your chances.
3) Any kind of foreign language classes will also be good. Police officers deal with different cultures on a regular basis. Being able to speak the language will be helpful. People put more faith in police officers who understand what they are saying, where they come from. Consider taking a class or two at night. It will also come in handy when dealing with people outside of the job.
4) One of the final steps involves submitting an application. If you are one of the chosen few, you will need to go through academy training. Police training is much different than security guard training. Security guard training only gives out the basics. Police training takes the basics and extends the knowledge to the next level.
The training will be about 14 weeks. It will require both on-the-job work and classroom time. This classroom training goes above and beyond what you learned in college in your criminal justice or police science class.
SOME FINAL WORDS
Once you have done all of this, you are just beginning. You will have to participate in ongoing education. You will also need to push yourself out on the field. The best way to work your way up is to prove yourself.
Are you excited about the prospects of becoming a police officer? Click on the link below. Here you will find detailed information on how to get started.