The Original and #1 Website for Security Guard Training
Online Security Guard Training and Career Center
Welcome to Security Guard Training Headquarters! We have everything you need to make your life easier as you begin your career as a security guard officer. State specific training requirements, a step-by-step hiring process, potential employers and interviews to help you get hired are just some of the helpful things you'll find here.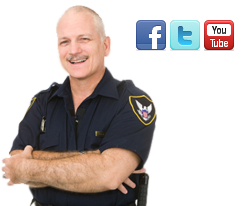 Here are 5 quick tips that you can use to help you get hired as a security guard:
Tip #1: Showcase Your Customer Service Skills
Employers are looking for people who have excellent customer service skills, because a big part of being a security guard is dealing and helping people in your area. Many people will come up to you to ask you questions, or approach you with a problem that needs to be solved.
On your application, be sure to note any customer service experiences that you've had. Where have you talked to people while on the job, and how do you think that will help you become a better security guard?
During your interview, be sure to be friendly and show that your customer service skills aren't just written on paper, but in your personality as well as you talk and converse with your interviewer.
Tip #2: Have All of Your Required Paperwork and Training Completed
Many States require a certain number of hours of security guard training before you can even apply for a position. Other States require that a certain amount of paperwork be finished too, such as fingerprint scans and other certifications.
Make sure you are up to date with your State's laws for becoming a security guard.
Tip #3: Check Your References
On your application, you will be required to fill out information for other people who may be able to reveal your work ethic and how you are on the job. Your future employer will most likely contact one or two of the people you referenced, so be sure that they are informed that they may receive a call.
The best people to reference are people you have worked with, or even former bosses. Of course, you'll want to list the people who like you and would be willing to put in a good word about who you are and the kind of work you do.
Tip #4: Know What's Expected of You
There's nothing you can do better than to let your interview know that you know exactly what the particular security guard job entails. If you understand what the job description and requirements are, you'll be able to easily answer questions in a way that they want to hear.
Tip #5: Be Confident!
Like with any job you're trying to get hired for, being confident is the best thing you can do. It shows during your interview and you'll be able to leave a long lasting first impression that will get you to stand out from the rest and get hired.
Good luck!