The Original and #1 Website for Security Guard Training
Online Security Guard Training and Career Center
Welcome to Security Guard Training Headquarters! We have everything you need to make your life easier as you begin your career as a security guard officer. State specific training requirements, a step-by-step hiring process, potential employers and interviews to help you get hired are just some of the helpful things you'll find here.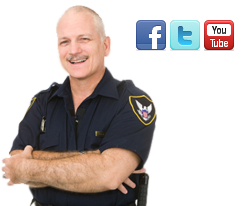 Guard Card Level 1 Course Information and Registration
Guard Card Class – Level 1 Training $45
8 Hours of Training (4 hours of training in EACH of the following 2 subjects:)
Single day class begins at 8:30AM on  TUESDAY, THURSDAY and SATURDAY each week.
Register for the Next Upcoming Classes Below

This is a basic course for persons interested in becoming security officers in the State of California. These two four-hour classes must be completed before a security officer is assigned to a post. Both classes are taken the same day.
Course Info
A. POWER TO ARREST (4 Hours)
CRIMINAL LAW
CIVIC LIABILITY
SEARCH AND SEIZURE
DUTY AND AUTHORITY
B. WEAPONS OF MASS DESTRUCTION (WMD) & TERRORISM AWARENESS (4 Hours)
ROLE OF THE SECURITY OFFICER
THE NATURE OF TERRORISM
WEAPONS OF MASS DESTRUCTION
COORDINATING AND SHARING OF CRITICAL INFORMATION
*Please bring a black pen and notebook to class.
Student Perks:
We offer the class Live Scan Fingerprinting (additional $74) and online submission of the Security Guard Application all on-site and on the same day!
State Requirements:
Be sure to review the California State requirements and make sure you are eligible to become a licensed security guard.
Additional Fees:
*The $51.00 State application Fee can be paid the day of your class.