The Original and #1 Website for Security Guard Training
Online Security Guard Training and Career Center
Welcome to Security Guard Training Headquarters! We have everything you need to make your life easier as you begin your career as a security guard officer. State specific training requirements, a step-by-step hiring process, potential employers and interviews to help you get hired are just some of the helpful things you'll find here.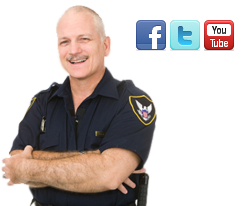 Does the idea of even a practice test for security guard licensing exams have you nervous? You know your stuff, but it seems like nothing freezes up like your brain on exam day.
Don't worry – your condition is common and treatable. Success on exam day is all about preparation.
Preparation starts before you open a book or even circle the test day on your calendar. It starts with making a commitment to yourself to take studying for your job as seriously as you'd take the job itself.
Here are a few ideas to help you maximize your study time and minimize the stress you'll feel when you sit down to take the test.
Tip #1 – Use a Security Guard Practice Test
Using a security guard practice test does a couple of really great things. It gives you a measurable idea of how you'd do right now on the actual exam. Once you spend some time in studying, re-take the practice test periodically and compare the results; you'll see how far you've come. And, simply by taking the practice test, you'll help your mind become accustomed to the exam process. Yes, you'll still have jitters, but they'll be lessened.
Tip #2 – Make a Schedule
Don't leave study time to chance. This is especially true if you choose a self-study course or a study guide in combination with practice tests. With the best intentions in the world, you'll find things creep up on you. Suddenly, your study time has vanished, and it's the night before the exam. That's a poor recipe for success.
Tip #3 – Focus on Your Goal
Did you know that the U.S. Department of Labor Bureau of Labor Statistics predicts that security guard jobs are likely to experience significant growth over the next decade? Keeping this fact in mind will help you focus on your studies. It's a lot easier to study when you expect to get something out of it!
Tip #4 – Be Reasonable
Don't expect to land a perfect score on your first round of a security guard practice test or memorize your entire study guide in one sitting. Frankly, it's not going to happen. Instead, work with what you've got; studies have shown that shorter, more frequent learning sessions are much more effective than all-night marathons.
Starting with the security guard practice test and carrying through to exam day may seem like a long road to travel. But the preparation and the vital knowledge you'll gain will make security guard exam success a reachable goal.