The Original and #1 Website for Security Guard Training
Online Security Guard Training and Career Center
Welcome to Security Guard Training Headquarters! We have everything you need to make your life easier as you begin your career as a security guard officer. State specific training requirements, a step-by-step hiring process, potential employers and interviews to help you get hired are just some of the helpful things you'll find here.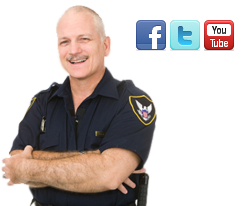 Yesterday you learned about getting started with LinkedIn to find security guard jobs. That was just the beginning though! The more time you put into using LinkedIn the more likely you are to find a great security guard job that you will love.
Here are some more tips to using LinkedIn for job search:
Get Recommendations
As it was briefly mentioned yesterday, recommendations are like referrals on LinkedIn. They show potential employers that you have value. But you can't just ask anyone for recommendations. You should ask people that you have actually worked with in the past – co-workers or employers. You can suggest things that they might mention in your request.
Send them a message similar to this:
Hi Jane,

I am currently searching for a security guard job and I would appreciate it if you could leave me a recommendation. Remember when we were working at XYZ Company and I had to calm down that customer that was upset because of product delays? The communications skills that I used to calm her down are exactly the kind of thing that employers of security jobs might be interested in.

Thanks,

Bob
Follow Companies
You can connect with more than just individuals on LinkedIn. You can also follow companies. Search for companies that you are interested in working for. If you find them, you will be able to follow them and learn a lot about them. Find out how many employees are working at the company, learn about the people that work for the company, and be updated when there are job openings.
Connect with HR Managers
As you follow companies, you can often find out who the HR Managers are and find out more about them. You can connect with them and learn about what they are doing and what they are looking for in potential hires. You can ask them questions and share information with them. Be subtle (you don't have to come right out and ask for the job) and demonstrate through your own updates and your profile that you would be an excellent candidate for a job in their company.
LinkedIn is an excellent place to learn, observe, ask questions, and connect with individuals that could help you find the job you are looking for. Security guards can benefit from LinkedIn by spending a little bit of time there each day and building up a network that can prove to be useful for many years into your future. Remember, the majority of jobs today are found because of the networks that you build up so don't wait until you need a job – start building your network today!