The Original and #1 Website for Security Guard Training
Online Security Guard Training and Career Center
Welcome to Security Guard Training Headquarters! We have everything you need to make your life easier as you begin your career as a security guard officer. State specific training requirements, a step-by-step hiring process, potential employers and interviews to help you get hired are just some of the helpful things you'll find here.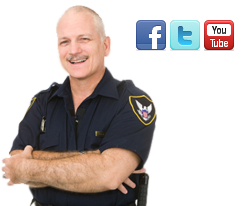 Are you on LinkedIn yet? If you're not it is time you got connected. There are many places you can search for security jobs online but LinkedIn is one of the best places for making connections, networking, and finding jobs in any field and that include security guard jobs.
Your Profile
Once you have joined LinkedIn, your first priority should be creating a killer profile that will make you more appealing to employers. There are several things you can do to make the best use of your LinkedIn profile when you are searching for security guard jobs.
Have a profile picture. Your profile picture should be professional and will give employers an idea of whether or not you are suited to their company. You don't have to be dressed in a uniform – just smile and look approachable.
Create a good summary that demonstrates your skills and experiences as they relate to being a security guard. You don't have to actually have experience as a security guard but you can show that you have the right skills by looking at your past jobs. Can you show that you have good communication skills, good thinking skills, and are physically fit? These things fit in well with security guard jobs.
Display your work experience.
Use the tags to highlight your skills. These tags are like keywords that will help potential employers to find you.
Make Connections
Once you have your profile completely filled out you can start connecting with people. Look for people that you have worked for in the past or have worked with. Once you connect with these people you can ask them to recommend you. The recommendations that they provide are like references and employers will get to know more about you and your work ethic through these recommendations.
Groups
Join groups that will help you get jobs. There are groups that are designed specifically for job searchers and then there are groups that are designed for security guards. Some of them are focused on specific regions and other groups are focused on specific companies.
Once you have joined some groups (some of them will require approval by the moderator of the group and this is where your profile will come in – if you don't show that you are connected to the security guard field they may not accept you into the group), start participating. Read threads, comment, ask questions, and answer them if you can. When you see someone that seems approachable send them a message.
This is just a brief summary of using LinkedIn to find security guard jobs. Watch for more info on how you can use LinkedIn professionally.