The Original and #1 Website for Security Guard Training
Online Security Guard Training and Career Center
Welcome to Security Guard Training Headquarters! We have everything you need to make your life easier as you begin your career as a security guard officer. State specific training requirements, a step-by-step hiring process, potential employers and interviews to help you get hired are just some of the helpful things you'll find here.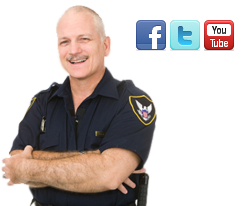 Security companies and businesses that employ security guards are not required to provide life insurance benefits to their employees, regardless of how risky the job is. With this being said, companies are required to carry worker's compensation insurance that will cover on-the-job injuries or death.
For security guards who want to provide their family with a legacy when they pass, purchasing individual life insurance is typically the best answer. But with so many different types of individual life insurance to choose from, how do individuals sift through options to choose the best plan? By understanding the difference between each individual insurance policy, you can make an educated decision, and invest in peace of mind and protection.
First things first, just because you are an armed security guard, does not mean that you will be unable to get life insurance. We've had many people approach us with that misconception.
Most Popular Type of Life Insurance – Term
There's no question that most affordable life insurance for those on a budget is term life. Term life, which is also known as temporary life insurance, will provide a level amount of coverage for a specified period of time. Terms can range in length between as little as a year, to as much as 40 years. Typically, the longer term, the higher the premiums.
All premiums will stay level throughout the length of the term and are based on the applicants age at the time of application. Term life does not have an investment component and is great for security guards who have children or a mortgage.
Universal Life Insurance
Universal Life is one of two very popular types of permanent life insurance. Unlike term life, permanent life insurance will remain active for the remainder of the policyholder's life, as long as the premiums are maintained. What makes universal life insurance unique is that the policy will accrue cash values. A portion of premiums are applied to life insurance premiums and the remainder of the premiums are credited to the cash value on the policy plus interest.
While these policies do have an investment component that some appreciate, they are far more expensive than term insurance. Security guards who are looking for permanent insurance with flexible payment terms, loan terms, and withdrawal terms, may want to consider universal life.
Whole Life Insurance
Whole life insurance is the second very popular type of permanent life insurance available on the market today. While both whole life and universal life are similar, one of the primary differences between the two is that level premiums must be paid into a whole life policy every year. Whole life gains cash values and these values earn a minimum amount of interest. If you feel more comfortably paying level premiums to fund your policy, whole life might be the better permanent option.
Security guards who are shopping for life insurance should take time to compare the rates of each policy before selecting a policy. There are plenty of resources to get life insurance quotes online so that you have a decent understanding of the cost before you approach a life insurance agent. If you can only afford to start with term insurance, you always have the option to convert term plans into permanent plans within a specific time frame. Invest in even a minimal amount of coverage and provide your family with the financial protection they need to survive if you pass away unexpectedly.