The Original and #1 Website for Security Guard Training
Online Security Guard Training and Career Center
Welcome to Security Guard Training Headquarters! We have everything you need to make your life easier as you begin your career as a security guard officer. State specific training requirements, a step-by-step hiring process, potential employers and interviews to help you get hired are just some of the helpful things you'll find here.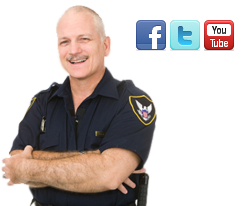 Security Guard Training Course Information and Registration
D License – $55 (Part 1)
Unarmed Security Guard License
(24-Hour Course)
3-Day Class
Must complete part 1 and part 2 Class D training classes
Course Info:
Part 1 of 2: 24 hours of classroom training. Full 40-hour training is required before a security guard can legally work as an unarmed security guard in The State of Florida.
Register for Part 2 here
The State of Florida will issue you your license upon completion of this course and after submitting the proper state application forms.
Register for the Next Upcoming Classes Below


Security Class D License Course Outline:
Chapter 493 Florida Statutes and Chapter 5N-1, Florida Administrative Code
Terrorism Awareness
First Aid TrainingPublic Relations
Emergency ProceduresCourtroom Procedures
EthicsFundamentals of Personal Security
Use of Force 776Interpersonal Communications
LiabilityProfessional Communications
Observation TechniquesTraffic Direction
Patrol TechniquesCrowd Control
Report WritingSpecial Problems for Security Officers
Crime and Accident Scene ProtectionTerrorism Awareness II
Interviewing TechniquesWanding & Search Procedures
Access ControlIntroduction to Non-Lethal Weapons
Crime and Accident Prevention TechniquesDefensive Tactics
Fire Safety
AND MORE…