The Original and #1 Website for Security Guard Training
Online Security Guard Training and Career Center
Welcome to Security Guard Training Headquarters! We have everything you need to make your life easier as you begin your career as a security guard officer. State specific training requirements, a step-by-step hiring process, potential employers and interviews to help you get hired are just some of the helpful things you'll find here.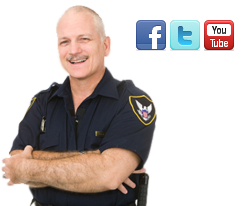 Each year there are different strategies to use for applying for work in security. It doesn't matter what the field or industry. Employers searching for security guards want to see cover letters and resumes that are both concise and informative. These are documents that serve as an introduction to employers and interviewers. The information provided on a cover letter, for example, should be designed to spark interest in the applicant overall.
There are strategies when it comes to the appearance of the cover letter. Finding out what trends are effective is essential before putting this document together. Decades ago, it was normal for applicants to write lengthy paragraphs on their cover letter. Today, it is expected for this letter to be one page in totality. This means using the most important information without being too wordy. Your goal must be to interest employers and lead them to your resume, which shows your security guard qualifications.
Select a Snippet of Current Responsibilities
Your cover letter should include a snippet of your current responsibilities are at work. Even if your position doesn't relate directly to becoming a security guard this information is important. This particular field is quite diverse and covers a variety of areas as described by the Bureau of Labor Statistics. Security guards can be found at virtually any building or shopping center in the country.
Many buildings in a business district stay open 24 hours a day, which requires security. Any responsibilities that you perform that are relevant can be shared. It is important to remember that this is a brief document. This means being strategic in what is displayed so that it reflects well on you as an applicant.
Showcase an Accomplishment
Since cover letters are supposed to be short in length there is a bit of orchestration involved with developing it. In some instances, applicants will design a document that leads with one or two of their major accomplishments. These don't need to be related to working in security but should show your diverse abilities.
Employers are willing in most cases to train new hires to perform the jobs they are hired for. Some security firms have their own internal requirements which must be taught onsite. The accomplishments that are shown on the cover letter can be from a current position or a previous one. Showing leadership skills and initiative is what these accomplishments need to reflect.
Highlight Transferrable Skills
Transferrable skills are essential no matter what type of position you are interested in. These are skills that you have gained through academic experience. They also include those picked up from each of your previous positions. Highlighting these is critical to show that you have experience working in various roles. This is a way to demonstrate that you can and will work in other capacities when necessary.
According to Forbes, private security positions currently outnumber those of police officers globally. This shows the importance of security guards and relevant roles. It is easy to see why these are competitive positions to qualify for. Using your cover letter and resume effectively means highlighting all of your skills in a favorable way. Remember the cover letter is designed to make employers want to know more.
Ask for the Interview
One of the most popular details of any cover letter is the final paragraph. This is often the briefest section of the document. Here is where applicants have the opportunity to speak directly to the reader. In most cases, this will be someone in HR or an interviewer. Taking the time to essentially ask for the interview may seem straightforward.
Along with providing information about yourself and your professional history, these documents have to perform on your behalf. Submitting them for available positions is not the only way to show your interest in working for an employer. Sharing your willingness to meet and discuss your desire to benefit the company is critical. This might be the difference between making a good impression or a great one.
There are many resources out there that teach applicants the process of designing these professional documents. Some show a step-by-step way to develop a good cover letter to submit with a resume. You will also discover that there are companies that will do the work for you. These require a fee and come with a variety of additional services. The design process is up to you but should be done with a purpose.