The Original and #1 Website for Security Guard Training
Online Security Guard Training and Career Center
Welcome to Security Guard Training Headquarters! We have everything you need to make your life easier as you begin your career as a security guard officer. State specific training requirements, a step-by-step hiring process, potential employers and interviews to help you get hired are just some of the helpful things you'll find here.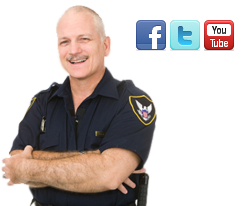 Every security guard comes under pressure at some point in time.  It might be pressure to do better at your job, to get a raise, or to eliminate behaviors at the job site.  No matter what kind of pressure you are under, you need to learn how to manage it so that it does not affect how well you do your job.
There are 5 things you can do to handle yourself when you are under pressure:
1.  Visualize
It may seem corny but visualization is a great exercise to prepare yourself for high pressure situations.  Visualize the environment.  Hear the noise.  Notice the people that are surrounding you.  Now see yourself doing exactly what you know you should do.  See every movement, hear every word, and anticipate how you might feel.  If you are really concentrating, you might even feel your heart beat quicken.  Then you'll know you are doing a great job.  When and if the actual situation comes around, you will remember what you have visualized and it will be so much easier to do what you are supposed to do.
2.  Keep Control
Sometimes when you are under pressure you might be faced with emotions you didn't expect.  These things can cloud your judgment and make you feel out of control.  One of the best ways to avoid losing control is to feel comfortable dealing with emotions. Put yourself into situations where you experience fear, confusion, or any other emotions that you are not used to – just make sure you do it in a controlled and safe environment.  Try to turn those emotions into energy that you will need to deal with whatever situation is at hand.
3.  Evaluate
Before you jump in to be the hero, make sure you take a minute to evaluation the situation.  Who is there?  Are there potential dangers anywhere?  What exactly is happening?  When did it start?  Where is everyone involved located?  Ask questions like these in your head so that you are prepare to take the actions that are necessary.
4.  Have a Plan
If you're familiar with the possible situations at your job and you know your environment you should be able to have a plan.  Your policy and procedures guide can help you with this.
5.  No Plan? No Problem
What if you don't have a plan?  Then just take these steps:
Figure out the details of the situation – who, what, where, when, why, and how.
Decide how critical it is.  The more critical it is the faster your action will have to be.
Based on the first two things you have figure out, plan out a few steps in your head.
Move!