The Original and #1 Website for Security Guard Training
Online Security Guard Training and Career Center
Welcome to Security Guard Training Headquarters! We have everything you need to make your life easier as you begin your career as a security guard officer. State specific training requirements, a step-by-step hiring process, potential employers and interviews to help you get hired are just some of the helpful things you'll find here.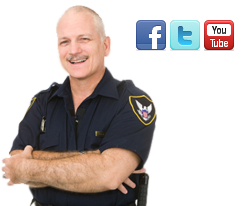 If you're looking at becoming a bodyguard there are certain characteristics and qualifications you will need to have. Below we have put a list of the most common requirements for anyone looking to Become a Bodyguard. Now like any list there are always things missing, please remember this and do your own research . There are defiantly more things to consider when looking at bodyguard training certification that what you reading but this is a good start.
What is a Bodyguard?
A bodyguard or also referred to as "close protection officer" or "personal security" is a trained experienced professional whose job is to accompany and protect a well know or high profile client. Some client's bodyguards will accompany are celebrities, corporate executives, the super rich, a politician and even professional athletes.
There are many traits that a good bodyguard must have to be considered a highly sought out professional. Most people see bodyguards in movies and shows and think they have an idea of what's really encompasses this profession. Below are a list of requirements to become a high-end bodyguard.
How to Become a Bodyguard 101
1. You must be licensed to become a bodyguard
Every state or county has their own process and requirements to become certified. Before looking at becoming a bodyguard look at the states or countries where you would offer your services to review the requirements. Some agencies require previous military experience or training similar to what you will learn in a personal protection class.
The great things is once you are certified you will be able to:
Work Private Security
Acquire a Bodyguard Job with high-end security companies
Work Security at local, national or international events
Become a security consultant and specialize in threat assessments
Create and oversee personal security procedures for corporate executives
Manage your own security team
2. You must have a thorough understanding of the job
Just like any other career path you take, it's important to understand what your job role is and what to expect before starting. Most potential candidates don't understand the time requirements in this profession. You will be working more than 40+ hours per week. Being a bodyguard also requires allot of traveling and helping your client with other things than security.
3. You have to be in great shape
Becoming a bodyguard requires you to be in great shape. In the event that you need to protect your client you need to have the stamina and endurance to accomplish this. You will also need to have perfect senses; hearing , sight, smell and common sense are a must. Having the mental toughness and physical abilities, plus patience, will be required to become a great bodyguard. It is recommend that you start a workout regime to prepare you for the job, prior to becoming certified. Many past students will start this regimen months before even considering starting the certification process. Crossfit training classes are a great way to speed up the process. These type of workouts can get you into shape very quickly.
4. To become a bodyguard you need to have great communication skills
Most people tend to forget how important communication skills are. In most jobs the people who are let go first are the one with the least communication skills. So imagine how important communicating to your clients about possible threats and recon is. Being able to communicate to other law enforcement agencies and describe the situation appropriately is a must. Also talking to fans or people who want to talk to your client and directing them where they need to go is critical. There are many books and courses you can take to help you improve your communication skills. Some of the most popular courses are local Toastmaster groups. Toastmasters is great for someone with now public speaking or management experience. Toastmasters tends to be very inexpensive and beneficial for most people who attend. Another option is to look at your local college for communication classes.
5. You should have other security based skills
Not only will you need to be in great shape and have great communication skills but you will need to have other security based skills. Most candidates will have a martial arts or some kind of self defense background. One of the most popular styles of Martial Arts real life bodyguards train in is Kali. Kali uses real life or death tactics. It also teaches weapons training such as knives, sticks and gun tactics, which is essential when wanting to become an armed security officer.
Martial arts are great but all potential students need to be accurate and efficient with their handgun or rifle of choice. 9mm and 40 calibers are very popular with Security Officials. Reality based firearm and personal defense training courses can be found in your local area and are highly recommend.
Other skills that are recommend for the future bodyguard candidate:
quick reaction time and constant awareness of your surroundings
efficient and accurate using a weapons like rifles, handguns and knives
good observational skills
the ability to recognize potentially dangerous situations and how to avoid them, or diffuse them if unavoidable
discretion and understand the need for client confidentiality
calmness and a level-head under pressure
the ability to adapt and improvise in different situations
decision-making and planning skills
learning multiple languages
How can Security Guard Training HQ help you become a body guard
There is a lot of information across the internet available on how to become a security guard, however all of the websites we've come across are not very user-friendly and often contain generic or outdated information. It is often difficult to even know where to begin and those other sites can leave you even more confused than when you arrived.
SecurityGuardTrainingHQ.com was developed to make the search for anything dealing with bodyguard and security training easy to find. We also have a search feature where you can find a top rated school in your local area. Our list is constantly expanding as we reach new agreements with other Security Guard Training Centers and criminal justice degree programs across the country.