The Original and #1 Website for Security Guard Training
Online Security Guard Training and Career Center
Welcome to Security Guard Training Headquarters! We have everything you need to make your life easier as you begin your career as a security guard officer. State specific training requirements, a step-by-step hiring process, potential employers and interviews to help you get hired are just some of the helpful things you'll find here.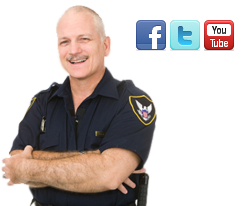 Being a security guard for any kind of day or night time job requires more than just walking around and making sure things or parameters are safe and clear. Communication skills are an important part of the job. As a security guard you have to learn how to communicate orders and follow protocol given and to follow the specifications of your security job.
Communicating with others who you will come in contact with can be another reason you should know how to express commands or instructions to follow if a variety of different situations. You will need to follow the procedures and policies of the company you work for and sometimes you will need to explain those policies to other people.
Some companies will require you to come in contact with various different people. People like contractors, customers and sometimes the owner of a company will be among those you will need to interact with on a regular basis. These situations are usually unannounced and unpredictable.
It is crucial that a security guard's communication skills be up to par prior to starting any job. Your communication skills will have to be very sharp. If lack of communication skills is present, it is possible to not only lose your current position, but you may lose the opportunity to take on other work as a security guard.
Not only are communications important when it comes to dealing with contractors, customers or owners, but communication is key when it comes to your co-workers as well. In many instances, you will find yourself working with someone or communicating with your shift relief. This way your position is known and you're safe at the same time. It is important to relay key information to your partner and/or shift relief while on duty. Other security guards need to know your whereabouts and your findings in order to properly do their job as well.
If you lack in communication your security guard job can become hard and even impossible to do. You have to know how to communicate with others so that the job can be done properly and safely. Reports must get completed for the next shift and also for the company you're securing. You must know how to fill out your reports with exact time and locations you've completed your daily or nightly security tasks.
Communication skills are not only limited to verbal, but written communication skills are imperative too. The key to safely securing any site that you are guarding is communication. Ensure that you have the right communication skills for the job.