The Original and #1 Website for Security Guard Training
Online Security Guard Training and Career Center
Welcome to Security Guard Training Headquarters! We have everything you need to make your life easier as you begin your career as a security guard officer. State specific training requirements, a step-by-step hiring process, potential employers and interviews to help you get hired are just some of the helpful things you'll find here.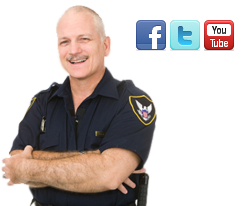 The main objective of the hotel security professional is to protect the guests and other employees. Secondly, he or she keeps guard on guests belongings and hotel property.
Security officers may be asked to take part in formal training sessions or just to train on the job. These rules depend on the hotels' policy and/or the state laws.
Main Hotel Security Everyday Tasks Include:
Keeping the General Order
As a hotel security guard, you will be in charge of enforcing hotel's regulations. That means informing guests if they have parked in a restricted zone, checking the guests age for access to the hotel bar, making sure minors are supervised by an adult in lifts and swimming pools etc.
Escorting Guests
If the hotel has a bar or nightclub venue, it's likely some customers are under the influence and they might become aggressive. If that happens, the security guard might have to force the guest out, escort him outside or alternatively ask the police to intervene.
If the hotel doesn't provide a valet parking service, at night time guests often ask to be escorted to their car.
Patrols and Surveillance
Security officers have to stay alert at all times to watch out for any abnormal situations that might occur. That requires patrolling the premises: hallways, staircases, parking lots and lobbies.
Some hotels provide a stationary location for security personnel, with video monitoring equipment. In that case, guards are responsible for watching the footage to catch out any unusual or illegal activity.
Writing Reports
After each shift, a written report is requested, logging all the routine security operations. Each unusual event has to be described and each customer complaint has to be addressed. Hotels might use a traditional system with the reports written by hand, but mostly it's all computer based.
Emergency Management
Depending on a hotel, security personnel may be in charge of managing the evacuation of the premises. In an instance of a fire drill or a false alarm, they inform the guests and calm them down if necessary.
Where to Find Hotel Security Jobs?
Major hotel chains are usually recruiting via an online application system. Check their websites and look for 'careers' section. Local hotels often have vacancies, but do not advertise them – do not hesitate to call up or go to the hotel in person to offer your services.
Alternatively, check out our Security Guard Jobs section to find job offers in your area.
Hotel Security Salary and What to Expect
According to The Bureau of Labor Statistics*, the average wage of a hotel security guard is $29,150 per annum ($14.01 per hour). Most hotel security jobs are available in California, where you can expect an average pay of $27,600 a year. New York state pays the most with the salary of circa $31k. The industry is likely to keep on growing, especially in sought after, tourist and business-friendly locations.