The Original and #1 Website for Security Guard Training
Online Security Guard Training and Career Center
Welcome to Security Guard Training Headquarters! We have everything you need to make your life easier as you begin your career as a security guard officer. State specific training requirements, a step-by-step hiring process, potential employers and interviews to help you get hired are just some of the helpful things you'll find here.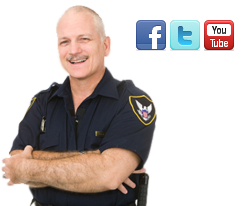 In the world of security guard jobs, there are a few different routes you could take: TSA, Homeland, Corrections, Armored car, and more. But one of the most lucrative security guard jobs is in corporate security. There is a lot of room for guards to work their way into management. There is a large need for corporate security guards, so there are many corporate security jobs available. And the pay and regularity of the job tends to be less intense than other forms of security.
Corporate security jobs range from loss prevention in retail all the way up to C level executives. The CSO is the Chief Security officer. Many times, this person comes from a law enforcement or military background, but there are quite often CSO's who have worked their way up through the ranks over the years. Between the corporate security guard and the Chief Security officer, there are usually a few corporate security managers. These are folks who have made security their career, are good with people, and are just as comfortable behind a desk as they are in the field.
One of the benefits of a corporate security job is the stability of the job market. Marketing may lose 50% of it's budget and 20 employees. The sales force may be fired and rehired and fired again. But security is integral to the functioning of a business. If the business isn't safe and secure, it can't run. Cuts to essential budgets, like security, are rare. Corporate security is one of the rare industries that tend to be insulated from market fluctuations. If the business is laying off security, the business is about to go under.
Corporate security is a very lucrative option for former law enforcement or military. In speaking to one high level security manger at an energy company in the northeast, he said that after over 20 years as a police officer, the transition to a security manager easy, lower risk, and enjoyable. More than that, he said that he makes over 5 times the salary he was making as an officer, with 100 times less risk. Because the skill sets transfer over so well, many times private industrial companies will seek out police officers or former government agents. Corporate security is a great industry for veterans to apply for.
In some cases times, corporate security agents will be unarmed, so a Class D security license or a Guard Card will suffice. However, many times corporate security guards will be required to carry a firearm. In this case, the agent will need to secure a Class G security license. This is an additional 30 hour class, regulated by the state, that teaches gun safety, situational awareness, de-escalation, additional first aid, threat assessment, and wraps up with a shooting test. Corporate security guards do not need to own their own firearm. The corporation that they work for will supply it. The Class G security license requires that licensees are re-certified every year.
When interviewing, hiring managers tend to look for work experience that shows a range of experience with people, but also a solid base of security training and know-how. Day to day, you will usually be professionally dressed, and the security uniform is usually a suit or pant suit, so ensuring that look the part on an interview is important. Finally, it's not enough to simply submit a resume online, and hope for a call back. The best way to secure a position is to show up, make a connection, and then send a resume later. (Do not show up with a resume in hand. Have it in a PDF on your phone, ready to send, but showing up with a resume is the worst.). Shake hands. Look a manager in the eye, and the follow up with a thank you email, and your resume later.
All in all, corporate security is one of the most lucrative security jobs to have. So get out there and start guarding!