The Original and #1 Website for Security Guard Training
Online Security Guard Training and Career Center
Welcome to Security Guard Training Headquarters! We have everything you need to make your life easier as you begin your career as a security guard officer. State specific training requirements, a step-by-step hiring process, potential employers and interviews to help you get hired are just some of the helpful things you'll find here.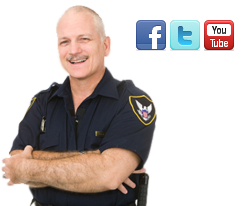 Guardsmark is one of the bigger security service companies, with offices in the US, Canada, Puerto Rico and Great Britain. With close to 20,000 employees, it is known as a company that specifically hires ex-FBI agents, as well as former Secret Service agents, Drug Enforcement Agency agents, and former military and police forces. The interview, selection and hiring process of Guardsmark is widely considered as one of the most stringent in the security service business.
The company was founded in 1963, and prides itself on its standards. The well-known national magazine Time has profiled Guardsmark Security as a company "many security experts consider the best national firm in the business."
Pros and cons of working at Guardsmark
Several employees have expressed their opinion on working at Guardsmark Security. Many mentioned the following positive points:
Company issued, free uniform
Free health insurance for hourly personnel
Good pay
The clients are terrific
Of course, negatives were also voiced:
The hiring process is very long
Raises are hard to come by
Not easy to take vacation days
Company seems to be stuck in the 1980's
Interviewing at Guardsmark
One thing to consider when thinking about Guardsmark jobs to apply for is their rigorous selection process. It will not be the easiest company to get into. According to their own numbers, only 2% of all applicants are selected to work for this firm.
One employee outlined their hiring process. They mentioned that you will be asked to verify your entire personal adult life, where you lived, worked, who your neighbors were, et cetera. Your medical background is also investigated meticulously. It is not something that they complete in an hour or so: they have 20+ pages of personal questions to ask. When that is done, they have another 500 question personality test for you to complete.
Overall the process looks very extensive and drawn-out. Some employees, however, did not have any problems with the interview, and said it was worth the time, as the questions were very interesting and made them learn more about themselves.
Finding Guardsmark Security Jobs
The company website outlines many different roles for which you can apply. For the role of Security Officer, an applicant must be 21 years or older, and possess a high school diploma or its equivalent. Another option is to inquire about the role of Security Supervisor, for which you either have to have been employed as a full time Security Officer for some time, or have the appropriate experience outside of Guardsmark.
In addition to above positions, the website lists a number of auxiliary positions, like managers, human resources specialists and relationship managers. These might be of interest to those wanting to work in the security service industry, but not on the ground.
It seems that Guardsmark does not relay any of their openings to larger job sites, so you will have to apply through the company website. This will also enable you to get more of a feel of the corporate identity, and read up on the company's history, management, goals and approach.