The Original and #1 Website for Security Guard Training
Online Security Guard Training and Career Center
Welcome to Security Guard Training Headquarters! We have everything you need to make your life easier as you begin your career as a security guard officer. State specific training requirements, a step-by-step hiring process, potential employers and interviews to help you get hired are just some of the helpful things you'll find here.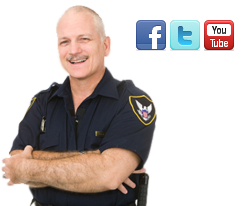 At one point or another, you may feel threatened by the thought of losing your security guard job. Although the job can feel monotonous at times, it is vital that you push through those feelings, so that you can ultimately keep your job. If you are on the edge of losing your job and needs some tips for keeping your security guard job, then these tips are for you.
#1. Seek Further Training
Perhaps something negative happened and your boss does not feel as though you are as sharp at your job as you once were. One major tip to keeping your security job is to further your training. There are multiple classes you can take to make you even better at your job. While you are in training, take lots of notes and keep a close eye on what they are saying. Feel free to job shadow another security guard because maybe they have some tips to help you improve in your current job.
#2. Always Do What is Right
No matter where you work, you might run into some dishonest people. The best part about doing what is right in your job is that you will always come in on top. Simple things like showing up to work on time and being honest about the amount of hours you work are just a few ways you can do what is right. Completing paperwork and helping out your fellow security guards will also help you keep your security guard job. Hopefully your boss and coworkers will see that you always aim to do the right thing and that will help leave a good mark on your career.
#3. Have a Good Attitude
In order to keep any job, you need to have a good attitude. A lot of people come to work and continue to whine and put others down. Having a good attitude will allow you to keep your security job because you will be seen as an asset to the team. You will also bring good morale to the company, which in return will help your reputation and work ethic.
#4. Stick it Out
There may be times when the weather is rough at your security guard job. In the end, one of the best pieces of advice is to stick it out. Every job has its ups and downs. You might get a new boss, or have to deal with several coworkers, but the bottom line is that you stick it out and see your job for what it's worth. You are there to protect individuals and property, so no matter what may come your way, pushing through the storm is one of the best tips for keeping your security guard job.
These are great tips for keeping your security guard job. When times get tough and you think your job might be on the line, just step it up with these tips.