The Original and #1 Website for Security Guard Training
Online Security Guard Training and Career Center
Welcome to Security Guard Training Headquarters! We have everything you need to make your life easier as you begin your career as a security guard officer. State specific training requirements, a step-by-step hiring process, potential employers and interviews to help you get hired are just some of the helpful things you'll find here.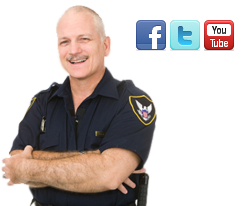 Although the word famous may not come to mind when you think of the title of security guard, the reality is that there have been plenty of famous people over the course of history, who have worked at one time or another as a security guard. Just about all of them ended up being either in a position of power in a political system, occupied in one way or another in the military, or are known for various other athletic accomplishments.
One of the most well known men that was the notorious leader of South Africa, Nelson Mandela, who passed away just two years ago at the age of ninety five.
Another incredibly notorious man and former security guard, who's name is etched in a tragic portion of history in the United States is Timothy McVeigh. McVeigh was put to death by legal injection after being convicted of planning and carrying out the Oklahoma City Bombing attacks, which killed a massive amount of people several decades ago. The attacks that were planned out and carried out by McVeigh absolutely shocked and stunned the world, especially due to the fact that one of the areas of the building that was hit contained a huge amount of children, leading to a large number of casualties. Another notorious criminal, although definitely not as big of a name as McVeigh, is Victor Manuel Gerena, who was a bank robber in the United States, which makes sense that he would have worked as a security guard in the past. In 1983, Victor Manuel Gerena pulled off a massive heist of a Wells Fargo armored car facility, in which seven million dollars was stolen, making it the largest bank robbery in history in the United States at the time, creating a massive man hunt for him and his gang.
There are a host of smaller, yet still well known people that have been security guards in the past, such as Derek Boyer, who is a former strong man and actor, who ended up working as a security guard for a number of years in the past, likely due to his massive frame. It is definitely clear that there is a direct correlation between those people that have worked as security guards in the past, with people that are in a demanding physical position, or a position of power, such as an athlete or a political figure.