The Original and #1 Website for Security Guard Training
Online Security Guard Training and Career Center
Welcome to Security Guard Training Headquarters! We have everything you need to make your life easier as you begin your career as a security guard officer. State specific training requirements, a step-by-step hiring process, potential employers and interviews to help you get hired are just some of the helpful things you'll find here.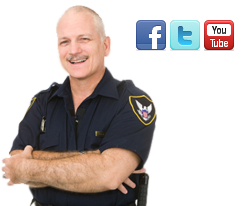 Have you ever had the desire to work as a security guard? There are typical parts of being a security guard that most people already know about. The part of protecting, serving, and making sure everyone stays safe. However, there are aspects of security guard jobs that you may not be familiar with.
The Job is Different Everyday
A lot of people have the misconception that a security guard job is boring and mundane. Most security job positions are different each and every day. Guards are faced with new situations daily. Criminals are always on the lookout for new opportunities to break the law and they get pretty creative.
Training is not Always Required
Some companies will really hire you without any experience. While this may be rare it says a lot about the company. They may be very trusting and willing to train you without any previous experience or training.
Lots of Companies Need Security Guards
There are a lot of misconceptions about the types of places that hire security guards. One fact is that security guards can work in a variety of settings. Banks, grocery stores, factories and many other places need security guards to help secure the premises. So, if you are interested in a security guard position there are an unlimited amount of places to find the position that is right for you.
Security Guards Actually Deal with People
A common misconception about security guards is that they never have to deal with people. This is not true and most of the job includes working with a variety of different people. It's a career that involves being flexible and getting along with a diverse group of people. Those of you who are looking into a security guard job should know that dealing with people will be on your list of job duties.
Working as a security guard is nothing short of exciting. Sure, there may be some days where you spend time watching the cameras, but action is sure to appear out of nowhere. There are plenty of true facts about security guards that will help you see the job as much more interesting and exciting.
Keep in mind that there are a variety of security guard positions so these facts might not be true to each one. If you're looking for an ever changing, character stretching, people loving job, then perhaps working as a security guard is right for you.