The Original and #1 Website for Security Guard Training
Online Security Guard Training and Career Center
Welcome to Security Guard Training Headquarters! We have everything you need to make your life easier as you begin your career as a security guard officer. State specific training requirements, a step-by-step hiring process, potential employers and interviews to help you get hired are just some of the helpful things you'll find here.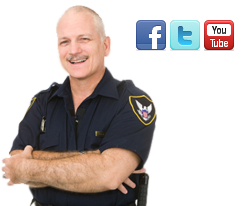 Most potential students who want to become certified in Executive Protection Training, don't know what to expect to pass their training. Below we have compiled a list of what to expect when you attend a class similar to what SecurityGuardTrainingHQ.com offers. You can expect this to just cover on the tip of the iceberg when your going threw the certification process.
Basic Prerequisites to enroll in a Executive Training Protection Class
Must be at least 18 years old
United States citizen or resident alien
No felony convictions or misdemeanors associated with violence (which includes domestic), drugs ( use or sale), theft or fraud in the last 5 years
Good moral character
Submit (2) recent passport type photo (one inch by one inch)
Submit fingerprint cards (2)
Certified copy of criminal background history for the last 48 months
Other Requirements that May Be Helpful:
Good Communication skills
Good physical conditioning
Be able to stand long periods of time
Prepare and Clear Out Your Schedule
Depending on where your taking your executive protection training times will vary. Some institutions offer a week long seminar where you can rapidly become certified. Other local colleges may offer a semester style course. That being said please be prepared to take into consideration the time requirements it takes to pass your class. Also take into account the continuous learning that is involved out of class like homework, research on your own, and general interest in this field, are things you need to have to become successful.
Be prepared to know a vast array of security training topics
Most potential candidates don't realize the vast amount of knowledge needed to pass a certification. At most training facilities you will cover over 15 topics like but not limited to:
Principles of executive protection
Case studies
DCJS Regulations
Threat Assessment and Vulnerabilities
Applicable laws and regulations
Legal Authority & Civil Code
Advances, surveys, preparation, planning and exercise
and much more
You will need to bring your own gear
Most students don't realize just like going to any school or university you will need to (BYOT) Bring Your Own Things. The most common items students forget to bring are:
Business Casual clothing for each day of the training
Rain gear, and clothing appropriate for training defense tactics
A Laptop and either a camera or a camera phone that can take clear photos
Be sure to have your lodging prepared before hand
Make sure to ask the facility where your training what they recommend for lodging. Often times they will have the best pricing on Lodging package for your Executive Training Seminar. Also verify if food will be provided during your stay at the recommend lodging areas.
Ready to get started?
At Security Guard Training HQ we can help you get started in your journey in becoming certified.