The Original and #1 Website for Security Guard Training
Online Security Guard Training and Career Center
Welcome to Security Guard Training Headquarters! We have everything you need to make your life easier as you begin your career as a security guard officer. State specific training requirements, a step-by-step hiring process, potential employers and interviews to help you get hired are just some of the helpful things you'll find here.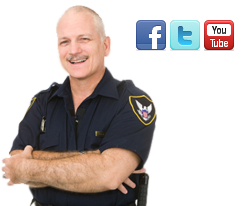 Disclaimer
Pat Flynn, Flynndustries, LLC and SecurityGuardTrainingHQ.com have used their best efforts in preparing and publishing the Top 10 Security Guard Interview Tips eBook. The parties, however, make no representations, guarantees or warranties with respect to the accuracy, applicability, timeliness, fitness or completeness of the eBook. The information contained in said publication is for educational purposes only and created to assist you to in preparing you for interviews for security guard positions.
Every effort has been made by Pat Flynn, Flynndustries, LLC and SecurityGuardTrainingHQ.com to accurately represent the product and its potential in assisting a person downloading the product with the interview process for an employment position as a security guard. There is no guarantee, however, that you will obtain a position as a security guard using the strategies, approaches, techniques and information contained in the eBook. A potential employer could ask any number of questions and there is no possible way all could be anticipated by the publisher of said eBook.
Your success in attaining a position as a security guard depends entirely upon the time you devote to learning and applying the strategies, techniques and information detailed in the eBook as well as your education, knowledge and specific skills learned through formal education and training. Given that these factors differ from individual to individual, there can be no guarantee that you will succeed in your efforts to obtain a position as a security guard whether you apply the tips in this eBook or not.
Pat Flynn, Flynndustries, LLC and SecurityGuardTrainingHQ.com disclaim any express or implied warranties, fitness or merchantability for any purpose. We shall not be held liable, and you expressly agree as such, for any direct, indirect, special, incidental, punitive or other form of damages whether consequential or equitable in nature arising from the use of this material, directly or indirectly. The material is provided "AS IS" and without warranty.
A. Copyright
Pat Flynn is the author and copyright holder of the Top 10 Security Guard Interview Tips  eBook. ALL rights associated with this work are reserved by the author. No part of this eBook may be copied in whole or part, changed into any other format, sold, used, or given away for free without the express, written permission of Pat Flynn.
License
YOU ACCEPT AND AGREE TO BE BOUND BY THIS LICENSE AGREEMENT BY ENTERING YOUR EMAIL ADDRESS AND CLICKING THE "FREE INSTANCT ACCESS" BUTTON ON THE DOWLOAD GRAPHIC. IF YOU DO NOT AGREE TO THIS LICENSE, YOU SHOULD NOT ENTER YOUR EMAIL ADDRESS OR PRESS SAID BUTTON.
1. License Grant
"You" means the person or company who is being licensed to use the eBook or Documentation. "We," "us" and "our" means Flynndustries, LLC.
We hereby grant you a nonexclusive license to use one copy of the eBook on any single computer, provided the eBook is in use on only one computer at any time. The eBook is "in use" on a computer when it is loaded into temporary memory (RAM) or installed into the permanent memory of a computer-for example, a hard disk, CD-ROM or other storage device.
If the eBook is permanently installed on the hard disk or other storage device of a computer (other than a network server) and one person uses that computer more than 80% of the time, then that person may also use the eBook on a portable or home computer.
2. Title
We remain the owner of all right, title and interest in the eBook and any related explanatory written materials ("Documentation").
3. Archival or Backup Copies
You may copy the eBook for back up and archival purposes, provided that the original and each copy is kept in your possession and that your installation and use of the eBook does not exceed that allowed in the "License Grant" section above.
4. Things You May Not Do
The eBook is protected by United States copyright laws and international treaties. You must treat the eBook like any other copyrighted material. You may not:
Copy the eBook,
Modify or adapt the eBook,
Reverse engineer, disassemble, de compile the eBook,
Place the eBook onto a server so that it is accessible via a public network such as the Internet, or
Sublicense, rent, sell, lease or lend any portion of the eBook.
5. Transfers
You may not transfer your copy of this eBook to any other party without the express permission of Flynndustries, LLC.
6. Limited Warranty
We warrant that for a period of 10 days after delivery of this copy of the eBook to you:
The eBook provided to you will be free from defects in materials and workmanship under normal use.
To the extent permitted by applicable law, THE FOREGOING LIMITED WARRANTY IS IN LIEU OF ALL OTHER WARRANTIES OR CONDITIONS, EXPRESS OR IMPLIED, AND WE DISCLAIM ANY AND ALL IMPLIED WARRANTIES OR CONDITIONS, INCLUDING ANY IMPLIED WARRANTY OF TITLE, NONINFRINGEMENT, MERCHANTABILITY OR FITNESS FOR A PARTICULAR PURPOSE, regardless of whether we know or had reason to know of your particular needs. No employee, agent, dealer or distributor of ours is authorized to modify this limited warranty, or to make any additional warranties.
SOME STATES DO NOT ALLOW THE LIMITATION OR EXCLUSION OF LIABILITY FOR INCIDENTAL OR CONSEQUENTIAL DAMAGES, SO THE ABOVE LIMITATION MAY NOT APPLY TO YOU.
7. Limited Remedy
Our entire liability and your exclusive remedy for breach of the foregoing warranty shall be, at our option, to either:
Repair or replace the eBook that does not meet the foregoing warranty if you notify us within the 30 days limited warranty period.
IN NO EVENT WILL WE BE LIABLE TO YOU FOR ANY DAMAGES, INCLUDING ANY LOST PROFITS, LOST SAVINGS, OR OTHER INCIDENTAL OR CONSEQUENTIAL DAMAGES ARISING FROM THE USE OR THE INABILITY TO USE THE EBOOK (EVEN IF WE HAVE BEEN ADVISED OF THE POSSIBILITY OF THESE DAMAGES), OR FOR ANY CLAIM BY ANY OTHER PARTY.
SOME STATES DO NOT ALLOW THE LIMITATION OR EXCLUSION OF LIABILITY FOR INCIDENTAL OR CONSEQUENTIAL DAMAGES, SO THE ABOVE LIMITATION MAY NOT APPLY TO YOU.
8. Term and Termination
This license agreement takes effect upon your downloading of the eBook and remains effective until terminated. You may terminate it at any time by destroying all copies of the eBook in your possession. It will also automatically terminate if you fail to comply with any term or condition of this license agreement. You agree on termination of this license to destroy all copies of the eBook in your possession.
9. Disputes
This license agreement shall be governed by, construed and enforced in accordance with the laws of the California, as it is applied to agreements entered into and to be performed entirely within such jurisdiction.
To the extent you have in any manner violated or threatened to violate Flynndustries, LLC and its agents intellectual property rights, Flynndustries, LLC and its agents may seek injunctive or other appropriate relief in any state or federal court in the State of California, and you consent to exclusive jurisdiction and venue in such courts.
Any other disputes will be resolved as follows:
If a dispute arises under this agreement, we agree to first try to resolve it with the help of a mutually agreed-upon mediator in the following location: San Diego. Any costs and fees other than attorney fees associated with the mediation will be shared equally by each of us.
If it proves impossible to arrive at a mutually satisfactory solution through mediation, we agree to submit the dispute to binding arbitration at the following location: San Diego, under the rules of the American Arbitration Association. Judgment upon the award rendered by the arbitration may be entered in any court with jurisdiction to do so.
10. General Provisions
This written license agreement is the exclusive agreement between you and us concerning the eBook and supersedes any prior purchase order, communication, advertising or representation concerning the Software. This license agreement may be modified only by a writing signed by you and us.
In the event of litigation between you and us concerning the eBook, the prevailing party in the litigation will be entitled to recover attorney fees and expenses from the other party.