The Original and #1 Website for Security Guard Training
Online Security Guard Training and Career Center
Welcome to Security Guard Training Headquarters! We have everything you need to make your life easier as you begin your career as a security guard officer. State specific training requirements, a step-by-step hiring process, potential employers and interviews to help you get hired are just some of the helpful things you'll find here.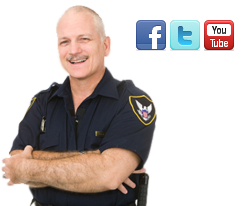 So you have done the training and become a fully-fledged Security Guard. But what are the options for career progression within the industry? I actually began my career as a bus boy cleaning the floor in a nightclub before working my way up to Security Guard, Supervisor, Manager and I am currently head of the entire security operation in London for one of the largest security companies in the world.
I want to share with you how I did this and hope that I can help you on your journey.
1. Start as you mean to go on
By this I mean, from the day you become a Security Officer you must always maintain the highest possible standards of work. Make sure your appearance is immaculate; you are punctual and maintain a low level of absenteeism. Give you customers the highest possible level of service because as you gain positive written feedback through emails and letters you can use this when it comes the time to ask for a promotion or a pay rise!
Always endeavour to be the best version of yourself when at work. As a Security officer or guard you do not provide anything tangible to your customers, in other words YOU are the product. What you say, how you deal with people and incidents are what will be remembered. If you do these things well, you will be on your way to Supervisory level.
2. Be a self-starter
One of the best ways to gain recognition as an innovative and forward thinking employee is to come up with solutions to problems. Showing that you can take the initiative and carry out research to back this up will enable you to stand out from the crowd and your name may be mentioned when an opening in Management comes up.
You may identify a simple problem such as wasted paper in your place of work and suggest your company switched to electronic data capture. You could present to your company the cost as well as environmental and marketing benefits this could have and people will think of you as someone who can work unaided to assist the whole team in being better.
3. Education
It is a fact that a large percentage of people within the Security industry do not have a college education. This does not mean that you cannot learn while you earn. When I worked as a Security Guard on day shift I attended evening classes to earn my IT diploma. When my former employer put me on night shifts I could no longer attend evening classes so guess what? I enrolled in a distance learning university and studied Management, Business, Society and Risk Assessing. I studied all of this at night while I was being paid leaving my days free to enjoy with my family.
4. Confidence
When you apply all of the above I have no doubt that you will achieve any goal you set yourself and you will be equipped with the tools and the resume to make a success of it. Having one of the above or a combination of them may just give you the edge over another candidate applying for the same job you are. Believe in yourself.
All the best and I wish you success in your career.