The Original and #1 Website for Security Guard Training
Online Security Guard Training and Career Center
Welcome to Security Guard Training Headquarters! We have everything you need to make your life easier as you begin your career as a security guard officer. State specific training requirements, a step-by-step hiring process, potential employers and interviews to help you get hired are just some of the helpful things you'll find here.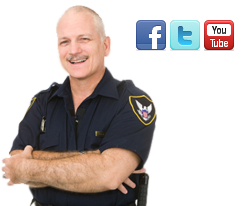 Do Cemeteries Need Security Guards?
While you might initially think that a cemetery is not a large security issue or that no crimes happen within them, this is not really the case. Even a cemetery needs some level of licensed security personnel for various reasons that become obvious in hindsight. while graves are infrequently-visited sites that usually tend to attract few people beyond a funeral procession, this does not mean that a cemetery is not completely free of risks. Most cemeteries are completely open to the general public, meaning anyone can gain access to valuable items like headstones or memorial objects; easy targets for theft and/or vandalism. It is this issue that necessitates the call for cemetery security guards; in just the year 2017, over 100 incidents of cemetery vandalism were reported within the United States, accounting for over 500 vandalized headstones and memorials and racking up $1,766,000 in damages.
Beyond the obvious traffic from the family and friends of bodies interred within a cemetery, there are a variety of other types of people who come to a cemetery. These other groups of cemetery visitors include the following:
People with a keen interest in some aspect of history, researching the graves of certain individuals connected to some notable event or organization.
Birdwatchers.
Photographers.
Artists.
Tourists. Tourists are especially prevalent in cases where a cemetery is host to the grave or mausoleum of a famous or infamous person.
While none of these individuals are any sort of threat to a cemetery, it is the fact that there are other types of people, individuals with far less benign reasons for coming to such a place, that serves as a reason to staff a cemetery with one or more security guards.
Another reason to hire security for a cemetery is if a funeral requires extra security. In these situations, it is best to resort to security guards trained to cover a cemetery rather than a guard with the basic training necessary for any sort of security position. Even beyond the obvious targets of graves and memorials, some criminals may look to make off with the various light fixtures, electronics or copper wiring installed throughout the grounds. Such places should obviously be put under close scrutiny, which is where a professional security guard comes in.
How Do Security Guards Help Cemeteries and Gravesites?
Even the mere sight of a guard in uniform can be enough of a deterrent for potential criminal offenders. It can also give a sense of safety and calm to visitors who aware.
While CCTV rigs might help with security, knowing that a trained security guard, someone of flesh and blood is patrolling the grounds can serve as a great boost of confidence for a graveyard's bereaved and its operators. Trained security guards know how to identify someone suspicious and to track suspicious arrivals and departures from the graveyard.
Overall, even an unarmed security guard can offer a sizable presence of security to a cemetery. The lack of weapon visibility also means that people will be less apprehensive about going somewhere with few or no other people around. In cases where a specific gravesite is known to attract a lot of criminal attention, armed security may be required.
Tasks of a Cemetery Security Guard
A security guard who has undergone sufficient training to cover a cemetery or gravesite is more than capable of performing the following duties.
Ensure that any and all property remains on the premises and is neither stolen nor vandalized.
Record real-time visual evidence of offenders and their vehicles.
Patrol the grounds in order to look for offenders and ensure everything is as it should be.
Ensure that the grounds are secure every day and night.
Observe and corral vehicles parked within or near the cemetery.
Authorize visitors' check-ins and check-outs.
Contact the appropriate emergency services should a relevant situation arise.
Secure contraband from making its way into the cemetery.
Give a regular daily report of all events, both mundane and irregular.