The Original and #1 Website for Security Guard Training
Online Security Guard Training and Career Center
Welcome to Security Guard Training Headquarters! We have everything you need to make your life easier as you begin your career as a security guard officer. State specific training requirements, a step-by-step hiring process, potential employers and interviews to help you get hired are just some of the helpful things you'll find here.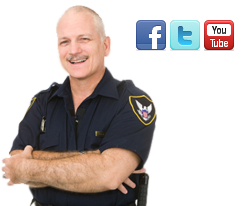 A security guard is a career that is very interesting and many people choose to seek. With this job come man duties, but their main duty is to protect people and the property they are assigned to look after. You will usually see a security guard in uniform, making it easy to pick them out of a crowd. They generally monitor activities and or functions to make sure that the event flowing as it should, and nobody is being destructive. Their primary duty is to prevent crime and to act if a crime has been conducted. There are many factors and duties that are a requirement by a security officer and most wonder how do they become a security guard?
There are many training courses that a person can take in order to become a security guard. One of the most convenient ways to obtain certification is through an online training course. Most individuals are required to work normal jobs and take care of their families so it's super convenient for them to be able to take their online courses and complete the training that way.
There are numerous accredited companies out there that allow an individual to become certified. There are different courses that are available as well, with different hours of completion. The classes cover your basic information and allow the individual to take it at their own pace, making it even easier to complete the class.
A simple google search will send you to pages of accredited companies, and will also offer their pricing options so you can take a look and decide which one will work best for you. Most of the certifications fulfill the Bureau of Investigative Services as long as you're hired within six months of completion. With the ability to take these courses online allow you to be able to complete the courses are your own time, which can be very essential to a super busy individual that wants to fulfill their dreams as a security guard. They training is affordable and fairly quick, so you can most likely get started right away. The faster you do, the faster you complete the course and take action in the field.