The Original and #1 Website for Security Guard Training
Online Security Guard Training and Career Center
Welcome to Security Guard Training Headquarters! We have everything you need to make your life easier as you begin your career as a security guard officer. State specific training requirements, a step-by-step hiring process, potential employers and interviews to help you get hired are just some of the helpful things you'll find here.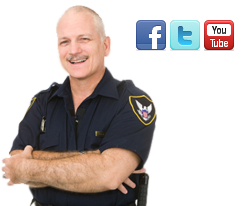 What does a bodyguard do?
Their job is to ensure the personal security of the assigned client. Clients typically fall into the following categories:
Celebrity
Politician
Business executive
Individual at risk of attack
They accompany their client in public to scout out potential danger. In addition to being able to prevent physical harm to their client, they must be able to communicate effectively and coordinate with other security personnel if any, in the event of a comprising situation. They must also make important decisions in emergency situations to best ensure the ultimate safety of the individual(s) they are protecting. Depending on the individual being protected, a bodyguard might work alone or be part of a security team due to the individual requiring heightened security.
In some cases, aside from the primary duty of personal protection, the role of driver may also be assigned to the guard. This requires them to plan the routes carefully to avoid dangerous situations for the client. Depending on the specific type of client and the location where they are, other particular tasks may be required. For celebrities for example, crowd control is important as both fans and "haters" may pose as a threat. Stalkers are another concern for this demographic. With the rise of social media, this tool has been adopted by the industry as a means of doing preliminary research to detect potential dangers as often threats will be made through such mediums and careful analysis will have to be conducted to consider these potential dangers. This ABC News article provides some interesting insight about this.
Procedure of How To Become a Bodyguard
First, it is important to make it clear that a security guard and bodyguard are two different things. A security guard is generally doing what's considered low level security and as such just requires a basic course to get the license. In order to serve as a bodyguard it is more rigorous as advanced training is required since one could be potentially dealing with life-threatening situations. This can include weapon disarming and having psychological critical thinking to determine if someone poses as an actual threat. As far as education is concerned, a high school diploma or GED is extremely important as most employers will expect this from potential candidates to show that they have a basic foundation to be able to handle further training as this is not a brainless job. If possible it is also good to take other courses related to skills that will be used on the job such as communication.
Depending on the type of clients that is being sought after, there are different types of courses available. The less expensive and more basic courses will teach you the basics but are unlikely to yield good results in the long run as high-profile clients tend to have high standards and prefer to use candidates that have gone through more rigorous training programs which are often much more expensive. However, these costs are to be seen as an investment as the level of compensation also increases when dealing with higher profile bodyguard jobs. For example, a well-known celebrity will pay much more than a local politician from a small city.
Bodyguard Training and Tips
Although it is not necessary to look like a bodybuilder, it is still very important to be physically fit. This is because the job entails having to move about very quickly and also protect themselves and their client against potential threats. Having poor endurance is certainly not going to be beneficial. A personal trainer can do wonders to achieve such conditioning. Alternatively, taking a few classes in strength and training can also be quite helpful in order to achieve a good physical performance. Self-defense and hand-to-hand combat classes are also worth looking into as these will help prepare for potentially dangerous encounters where such skills might be the key to survival. As unfortunately death can be a real threat in some cases, therefore, such physical and mental conditioning should not be taken lightly.
As previously mentioned, there are also different degrees of programs offered at training schools. Depending on the career objective, it may be unwise to opt for the less rigorous training as while one might save money initially, it won't necessarily help in ensuring a higher income in the future as higher paying gigs generally have higher standards that require more enriched training. For example, for business clients, executive protection training may be preferred. Also, if one has prior experience as law enforcement or military service, this is certainly a beneficial trait that employers like to see in candidates as it earns a certain level of trust. Depending on the route taken in regards to armed and unarmed gigs, it may be necessary to undergo fire arm related training as well.
Where to Land Bodyguard Jobs
Once you've done the proper training and are ready to enter the workforce or perhaps already have experience as a bodyguard you can search for employment in various ways. Below is a list of some recommendations:
Training Center – a lot of training schools and programs offer employment assistance. Give this a try as they often have relationships with entities and individuals in need of such services.
Security firms – check the career sections for the local security firms in your area, even if they don't have any openings, send in your resume in case something comes up in the near future.
Referrals – don't underestimate word of mouth referrals. If you're not new to the workforce leverage old and new contacts to land a potential job or even a side gig if you're just looking for extra income as some individuals may have infrequent needs.
Don't limit yourself to one specific demographic – if you have experience in a particular sector and are satisfied with that then it may be advisable to continue to focus on that but if you're getting started or are not satisfied with the type of clients you've acquired in the past then it may be worth looking into all sectors. Remember that there are state organizations, private organizations, and individuals who require the service so if in the past you just sought out executive protection jobs, it may be worth experimenting with another sector.
Using the recommendations above can help you find bodyguard jobs that will hopefully suit your financial needs and qualifications. As far as finding out what's an adequate salary, check out Payscale.