The Original and #1 Website for Security Guard Training
Online Security Guard Training and Career Center
Welcome to Security Guard Training Headquarters! We have everything you need to make your life easier as you begin your career as a security guard officer. State specific training requirements, a step-by-step hiring process, potential employers and interviews to help you get hired are just some of the helpful things you'll find here.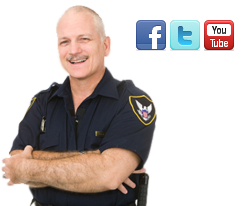 The mysterious and exciting world of celebrity bodyguards and VIP security offers high pay, awesome travel, and the chance to rub elbows with some high profile characters. You don't get invited in straight out of a close protection course. Getting one of these jobs takes serious executive security skills.
To secure a job in VIP protection, you'll need to get as many different armed security jobs and close protection experience scenarios as you possibly can. They call it elite security for a reason, and no one hires you into the world of celebrity body guarding without an impressive resume.

Executive Protection Training (also known as bodyguard training)
Having the built of a stereotypical bodyguard is not enough to make you become one. A bodyguard, professionally known as an executive protection specialist, passes through bodyguard training to obtain the right skills needed for the job. These people provide a high level of security to VIPs and individuals who may have elevated personal risk.
They belong to the executive protection field, which is part of the private security industry. In the US, services under this field are regulated by the state, in most cases requiring training, licensing, insurance and separate carry permit. Firms that provide executive protection services are likewise required to have state-issued business license and registration that allows them to provide such service.
A Quick Rundown of 'Close Protection Jobs'
An executive
protection specialist, sometimes called personal protection specialist, protective service agent, or simply bodyguard are hired to primarily protect their client. Their duties include, but are not limited to monitoring security systems, assessing threats, preplanning activities for regular days and special events, and coordination with various people to be met by client.
Close protection jobs can be extremely stressful at times. And just like any other security guards, you've got to keep a level head and a sturdy hand at all times. Depending on which security companies you work for, stress tests might be apart of your employee intake. Consider starting a local fight club or joining a boxing gym.
Different companies hire executive protection specialists to protect top executives. Other clients could be high-ranking government officials, state witnesses and celebrities. He may escort a client from time to time, background check people who will come in contact with client or check vehicles for devices, bombs, or potential shooters.
Duties of a VIP Body Guard
The breakdown of responsibilities of an executive protection specialist depends on the role given to him and the level of risk of his client. In some cases, they can also serve as drivers or become a part of a team of body guards. Additionally, depending on jurisdiction, they may be armed or unarmed to protect high-risk individuals.
A team of body guards of a head of state may begin their day by meeting to review the different activities client has to do for the day, and discuss how they would undertake escorting, transportation and monitoring tasks. Before client arrives at destination, one of them may have to exit first to check if the place is secure and if people expected to be met are all present.
Bodyguard Training
Becoming an executive protection specialist requires various skills. You need to obtain training in unarmed combat, tactical driving, firearms tactics and even first aid, crowd screening, and search for explosives or bugs. Numerous private institutions now offer complete courses to develop understanding of the protective doctrine. You may obtain education from nationally known and respected Executive Protection schools. It is important to choose the right training provider, one that has extensive experience to be called masters in the field.
Executive Protection Courses involves dynamic and intensive training courses that focus on protective methodology and practices. Most of them have evolved from the U.S. military schools themselves. These range from 2 to 200 hours and could cover everything that a VIP protection agent needs to work on an armed or unarmed detail anywhere in the world. Most programs will not just sit you down in a classroom and show you slideshows.
Trainings include coaching, mentoring, and definitely hands-on programs. Students can develop knowledge and abilities that will gear them to be competent security providers. There are practical exercises to enable them to employ the tactics, methodologies, procedures and techniques learned throughout the course. The cost of training varies widely. Individual courses may range from US1,000 to US$2,000. Complete training programs in the U.S. cost about US7,000 to 10,000, gun rental is at US$100 to 300 while lodging is at $20 to US$60.
Close Protection Courses
These are some of the courses and classes covered by Executive Protection Training programs in the U.S.
Organizational training. This usually trains executive protection personnel to understand the hierarchy in an organization. That way the executive protection personnel would understand their role in the whole hierarchy and how security can be enforced.
This will also include topics in tactical and strategic planning and problem solving. It is under these classes that you will learn how to develop organizational policies to implement proper security measures and build security programs. These classes also cover ways to train security personnel and how to incorporate the executive security measures with the existing security measures.
High profile protection and protective intelligence. This particular course encompasses topics and subjects that are needed for the protection of high profile clients. High profile clients would include political candidates, public figures in the realm of politics, celebrities or those in the entertainment industry and high profile personalities in the business world.
These figureheads are constantly in the limelight and often need protection due to their rank and status in the society. Topics in this course will teach you how to organize proper convoy transport for your client. You will also be trained in methods to be able to control the public and how to ensure that your client does not have access to the public and vice versa.
You will also be taught to set up a command center where all the control will take place. You will learn the rudiments of team operations and communications.
Skills Required By Most Security Companies:
With high end security companies, you will be trained to hone your proactive and predictive intelligence. This will allow and train you to analyze and see the difference between real threats and those that are merely hoaxes. This will teach you how to track down the source of the threat in order to further protect your client.
You will learn analytical models to predict the next movement of the ones threatening your clients. Lastly, this course will tackle topics in strategies for intervening and dealing with possible threats. You will be taught how to counsel and deal with them both psychologically and legally.
Estate security This course will teach you all about maintaining, securing and protecting the property of your client. This will include classes in patrolling, studying about systems for detection, how to liaise with other agencies that enforce the law, how to detect intrusions, training of staff members, how to do inventory checks of the property and document the items that are of great value, how to create visitor logs and protection of your client and guests.
Bomb search and identification This course includes classes that teach you all about bombs. You will learn how to search for bombs in the area. You will also be taught to prevent the planting of bombs. Procedures on searching for a bomb will also be learned in this course. Lastly, you will also be trained to get people to evacuate safely. You will also be taught to identify the different kinds of explosives.
CPR This course is an essential one in any training program. This will train you to save lives while under enemy lines. You will learn to treat wounds, attend to burns and injuries.
Vip Security As many celebrities require a lot of protection, there is a special course solely made to train specialists on dealing with them. You will be taught to understand the life of a celebrity and how to deal with the press. You will be taught about life behind the scenes in the world of music and film. You will also be taught on how to travel and dealing with different cultures and customs.
Defensive Shooting One of the most important courses, this will teach you how to shoot properly. You will be taught rudiments in defensive shooting and tactical shooting. You will be taught how to handle different firearms and how to aim for certain people. You will be tested under stress to ensure that you will be able to shoot well even during times of emergency.
Getting The Training for Bodyguard Jobs
There are several ways on how you can go about completing an executive protection training program. One way would be by finishing a residency of 4 weeks or 28 days. During the 4 weeks, you will be asked to take residency in school and attend classes in the school as well. Moreover, you will be made to undergo practical exercises that will enhance your abilities and skill.
Without these skills you don't have much of a shot of nailing any sort of high end bodyguard jobs. Similar to any other line of work, you've got to work your way up from the bottom. Check out which security guard companies have which requirements, and start building your resume as soon as you possibly can.
Bodyguard Training Timeline
If you do not have much time to attend lectures in the classroom, you can opt to enroll in an online program. This will run for 450 hours. You will need to study on your own and complete all the written tasks given to you. After completing these tasks, then you may proceed to the resident training. This will be 15 days of pure practical rigorous training that will test your skills.
However, there are some courses that are only available to those who complete the entire 4-week or 28-day residency, as these courses would entail a combination of tactical, practical and classroom training done simultaneously. Therefore, if you feel that these courses would be integral to your training, then it might be best to enroll for the 28-day residency training program rather than opt for the 15-day one.
It will roughly take about one to nine months to complete the entire program, depending on the availability of classes and courses and how diligent you are in attending classes.
The time spent to complete the classes would also depend on whether you enroll in the 28-day program or if you combine distance learning and the 15-day residency. Usually those who choose the distance learning program take longer as they go according to their own speed. Those who opt for distance learning usually finish the training program between nine to twelve months.
For residents, each course has six lessons and can be completed in 30 days. Online students are required to complete about 15 to 20 hours of their course weekly. However, the completion of this would all depend on how fast the student can finish all the required subjects. Moreover, it will depend on the availability of funds as each course is paid for separately.