The Original and #1 Website for Security Guard Training
Online Security Guard Training and Career Center
Welcome to Security Guard Training Headquarters! We have everything you need to make your life easier as you begin your career as a security guard officer. State specific training requirements, a step-by-step hiring process, potential employers and interviews to help you get hired are just some of the helpful things you'll find here.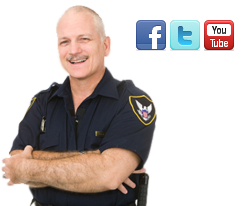 To become a security guard, you must first meet the eligibility requirements required to become one. They are:
You must be at least 18 years old
You must have a clean record. A criminal history background profile check will be performed when you apply.
You must complete the required training.
The required training to become a security guard varies from state to state.
For example, in California, before anything you must first complete an 8-hour "Power to Arrest" security guard training course and pass a related exam. At this point, you can then apply to become a security guard in the state of California, however additional training is required after you are hired in order to complete the security guard application process.
Within the first 30 days, you must complete 16 more hours of training, followed by another 16 hours within the first 6 months. In total, this is 40 hours of required training.
In the state of New York, the security guard training is structured just a little differently. Like in California, if you have no previous law enforcement training (in New York), then you are required to do an 8-hour pre-assignment training course before you can get hired as a security guard.
Then, within the first 90 days, you are required to take an additional 16 hours of training. And just to give you an idea, if you would like to hold a firearm as a security guard in the state of New York, you will need an additional 47 hours of training on top of everything else.
Where Do You Apply to Become a Security Guard?
Applications to become a security guard are usually located in a  Bureau of Security or Division of Criminal Justice for each respective state. Luckily, all of that information, including printable applications and more detailed, step by step instructions about how to proceed with your application are available online on those States' websites.
Where Do You Find Training to Become a Security Guard?
The initial 8-hour training and exam can be performed offline at a certified training facility, or online on many of the certified training websites available to you. Training online may be the easiest and most convenient for you, since it can be done in the comfort of your own home.
On your State's Department of Justice or Bureau of Security website, there will most likely be a list of the approved offline training facilities available to help you.
For the additional training that is required, you also have the option of fulfilling those requirements online or offline, however please check with your State as rules may vary for what is allowed.
Security guard training can be a nuisance because we know you want to get started with your career right away, however you will learn a great deal of information that you can apply to your future position as a security guard that you will be thankful for.
Keep at it, and use the following information below to find out more detailed information for your respective state.