The Original and #1 Website for Security Guard Training
Online Security Guard Training and Career Center
Welcome to Security Guard Training Headquarters! We have everything you need to make your life easier as you begin your career as a security guard officer. State specific training requirements, a step-by-step hiring process, potential employers and interviews to help you get hired are just some of the helpful things you'll find here.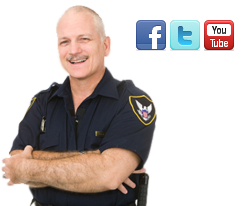 Security is an important decision for any individual considering it as a job path. For many it is a rewarding and satisfying occupation. Many find pride in helping businesses keep citizens, properties and goods safe. While it is a field with many possibilities, it's best to also consider the wide range of responsibilities and duties, along with training necessary to effectively do the job.
Consider the type of employment settings, and hazardous situations security guards work under. Also consider primary responsibilities, the need for safety awareness, firearm training, monitoring properties, and being involved in potentially dangerous situations. Security guards often monitor and protect businesses, such as apartment complexes, shopping centers, industrial complexes, offices, and hospitals.
Security Guard Responsibilities
Their responsibilities range from physically patrolling properties, buildings, and investigating any suspicious individuals, to completing paperwork, communicating with property owners and managers, police, fire departments, and emergency personnel. Responding to alarms and camera monitoring systems, as well as apprehending and conducting citizen arrests is also the responsibility of security officers. Checking monitoring systems, replacing broken parts, reporting damages to property owners, or checking identification of individuals is also the duty of security.
Because officers work in a wide range of business situations they may have other responsibilities as well. For instance, some officers work at financial institutions, and armored guard locations, or jewelry stores, where high sums of money or expensive merchandise is kept, and is only transported in armored vehicles. In this situation, guards are normally armed, with bullet proof vests, and transport high volumes of money from one location to another, or accompany those that do. It is a potentially dangerous job, with the threat of armed robberies, and potentially life threatening situations.
Officers are also responsible for keeping all safety gear in proper order, and being prepared for dangerous situations. They should know the grounds and layout of the property, investigate possible entry and exit points, and know areas where criminals could potentially hide. Knowledge of this not only keeps guards safe, but keeps properties and expensive goods from robbery and damage. It also protects the innocent from violent crime.
There may also be conditions in which guards may apprehend suspects, or secure criminals until the arrival of the police officers. This may be necessary in situations involving robberies, vandalism, and violent crime. Individuals trained in security can easily apprehend individuals, and know the proper procedures for dealing with crime.