The Original and #1 Website for Security Guard Training
Online Security Guard Training and Career Center
Welcome to Security Guard Training Headquarters! We have everything you need to make your life easier as you begin your career as a security guard officer. State specific training requirements, a step-by-step hiring process, potential employers and interviews to help you get hired are just some of the helpful things you'll find here.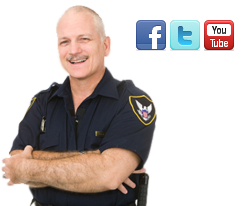 Security Guard Training Course Information and Registration
Level IV – $250.00
Personal Protection (Bodyguard) Course
(30 Hour Course)
3 days of classes, 10 hours each day
Register for the Next Upcoming Classes Below

We follow the State's course manual and then we exceed the State's minimum requirements and provide you with a well-rounded, basic bodyguard certification course, which is recognized throughout the state. We have added many suggestions and recommendations from security employers and prior students to our class to make it what it is today.
We have doubled the amount of training that the state requires and thus, our class is now a 30 hour course of instruction and certification to better prepare and immerse you into the field.
OUR COURSE POINTS:
  Classroom/Seminar
  Checklists
  PrePlanning & Threat Assessments
  Client Contact/Interaction
  Force Options
  First Aid/ CPR/ AED
  Exterior/Interior Procedures
  Response to Incidents & Threats
  Advanced Handgun Course
  Firing Range
  Pepper Spray Certification
  Hands-on Defensive Tactics
  Overt & Covert Protection
  Escalation/De-escalation of Force
  Protection at a Location
  Protection on the Move
  Communication/Reports/Radios/Vehicles
  Logistics of Security Detail/Checklists
COURSE INCLUDES:
Official State Training Course
Official State Exam
Additional Classroom Handouts
PowerPoint Presentation
Training Videos
Firearms Proficiency Course Included
Advanced Handgun Course Included
Weapons provided at no cost, If needed
Holsters provided at no cost, If needed
Range Fees Included
Hearing Protection Included
Eye Protection Included
Use of many Training Aids
Bodyguard Certificate of Completion
Pepper Spray Certificate of Completion
First Aid/CPR/AED Certificate of Completion
Level-4 PPO's must also hold a valid Level 3 Commission license