The Original and #1 Website for Security Guard Training
Online Security Guard Training and Career Center
Welcome to Security Guard Training Headquarters! We have everything you need to make your life easier as you begin your career as a security guard officer. State specific training requirements, a step-by-step hiring process, potential employers and interviews to help you get hired are just some of the helpful things you'll find here.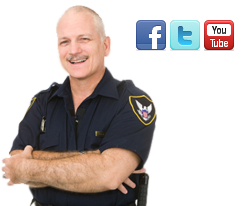 Security Guard Training Course Information and Registration
Level III – $175.00
Commission (Armed) Officer Training Course)
(40 Hour Course – Mon-Thurs)
4 Days of classes, 10 hours each day
Register for the Next Upcoming Classes Below

This is a state required 40 hour course. This class is often referred to as "the gun class," but actually provides 30 hours of non-firearm related topics that everyone needs to know, and only 10 hours of firearms training.
Student Bonus: Free Shotgun Class
Many armored car carrier services and other assignments are equipping security members with Shotguns; this addition to your permit is highly recommended. We automatically include instruction and shotgun qualification with every Level-3 class at no additional charge as our way to help better train and prepare the security professionals of today. Our shotgun rental is also free of charge.
Handguns and shotguns are provided for FREE to use – your price also includes range fees.
COURSE POINTS
Laws & Regulations, Notes & Report Writing
Crime Scene Protection
Officer Safety/Survival
Use of Force, Criminal/Civil
Conflict Resolution
OODA
Defensive Tactics
Intro to Handcuffing
Live Fire: Handgun & Shotgun
State's 100 Question Written Exam
COURSE INCLUDES
FREE Lifetime Recertifications
Official State Training Manual
Official State Exam
Additional Classroom Handouts (Additional 50 Pages of Information)
Training Videos (Combined 3 hours of outstanding videos and scenarios)
Handgun Qualification Course Included
Shotgun Qualification Course (FREE)
Weapon Rental (FREE)
Equipment Rental (FREE)
Range Fees Included
Hearing & Eye Protection Included
Use of many Training Aids
PowerPoint Presentations
Professional Certificate of Completion