The Original and #1 Website for Security Guard Training
Online Security Guard Training and Career Center
Welcome to Security Guard Training Headquarters! We have everything you need to make your life easier as you begin your career as a security guard officer. State specific training requirements, a step-by-step hiring process, potential employers and interviews to help you get hired are just some of the helpful things you'll find here.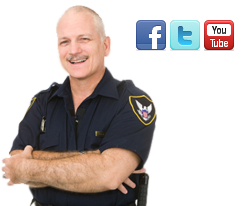 In West Virginia, an armed security guard either works as an individual or is hired by a security company, either way you must obtain a license. Licensing is regulated by The West Virginia Secretary of State's office. Before a license is issued, there are certain criteria that must be met.
Basic requirements for armed security guards in West Virginia:
Be at least 21 years old
United States citizen or legal alien
Have good moral character
Never been denied a license or had one revoked in West Virginia
Mentally competent
Drug or alcohol use or dependence is prohibited
Pass drug test
No felony convictions
No history of assisting an inmate escape
No history of buying or selling stolen property
No disabilities that would prevent performance of duty
Successfully pass a criminal background check
Proven Experience
As a sole proprietor, you must be able to prove years of experience as a security guard in West Virginia. Certain training and experience may be required by the company that hires you. The training topics below offers an idea of what type of training you can expect:
Your role as an armed security guard
Legal Ramifications
Techniques for patrolling and observation
Incident Response
Surveillance operation and documentation
Working with and addressing the public
First Aid Overview
Report Writing
Weapon Training
Must meet all firearms requirement training set for by the 61-7-4 West Virginia Code.
For more information, please call 304-558-8000
Resource