The Original and #1 Website for Security Guard Training
Online Security Guard Training and Career Center
Welcome to Security Guard Training Headquarters! We have everything you need to make your life easier as you begin your career as a security guard officer. State specific training requirements, a step-by-step hiring process, potential employers and interviews to help you get hired are just some of the helpful things you'll find here.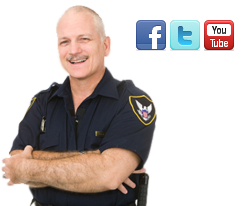 As an armed security guard in Utah, a license is required. The Utah Division of Occupational and Prof Licensing (DOPL) handles the licensing of security guards. In addition to meeting the basic requirements of a security guard, additional firearms training must be completed.
Basic requirements for armed security guards in Utah
Be at least 21 years old
Valid Social Security number
Valid Identification (Utah driver's license, passport
Finger print cards (2) or electronic fingerprinting is accepted
Mentally competent
Have good moral character
No drug or alcohol use or dependence
Must successfully pass a drug test
Never convicted of a felony
No disabilities that would prevent performance of duty
Submit to criminal background check
Expected to know all the Laws and Rules pertaining to your service
Classroom Training
All applicants must complete 24 hours of basic training and pass a written test with a score of at least 80%.
Courses Study should include
Legal responsibilities
Writing reports
Use of proper force
Sexual harassment
Responding to a situation
Patrolling techniques
Community relations
Firearms Training and Completion
You must sit and complete 24 hours of classroom training on your particular firearm in accordance with the rules of the licensing act. In addition, to these 24 hours, you must submit a Certification of Completion form showing that you have completed six hours of firearm instruction and an additional six hours at the range.
Fees are nonrefundable
Application processing fee: $100
For more information, please call 801-530-6628.
Resource