The Original and #1 Website for Security Guard Training
Online Security Guard Training and Career Center
Welcome to Security Guard Training Headquarters! We have everything you need to make your life easier as you begin your career as a security guard officer. State specific training requirements, a step-by-step hiring process, potential employers and interviews to help you get hired are just some of the helpful things you'll find here.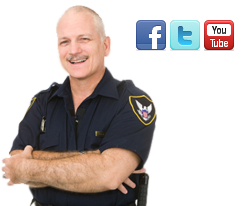 Armed security guards in Texas must be registered and employed with a security agency. You must obtain a weapons permit in addition to your registration card. After all requirements are met, the Texas Department of Public Safety will administer all licenses and permits.
Basic requirements for Armed Security guards in Texas:
You must be at least 21 years old (18 years old if you have an honorable military discharge)
United States citizen or legal alien
Valid social security number
No felony convictions or any crime involving the illegal use of weapons
Mental competency
Drug Testing
Successfully pass a criminal background check
Fingerprint cards (2)
Passport photo
Texas driver's license
Level II certificate of completion
Successfully complete Level III classroom training & firearms training
Training
Commission officers must have completed level II Basic security guard training. This training may be given by hiring company as long as the curriculum is in accordance guidelines set for by the Texas Department of Public Safety.
Firearms Training
Armed security officers in Texas are called commissioned officers and they must complete and pass a level 3 training program, which consists of 30 hours, given by a level III certified instructor. Form PSB38-A must be submitted with application. Search here for a security training course near you.
For more information, please call the Texas Office of General Counsel Public Information – Private Security Records, Regulatory Service, at (512) 424-7710.
Resources