The Original and #1 Website for Security Guard Training
Online Security Guard Training and Career Center
Welcome to Security Guard Training Headquarters! We have everything you need to make your life easier as you begin your career as a security guard officer. State specific training requirements, a step-by-step hiring process, potential employers and interviews to help you get hired are just some of the helpful things you'll find here.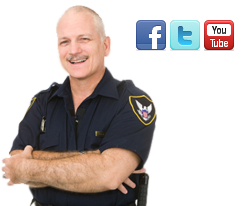 In the state of Tennessee, a license is required for an armed security guard. It's also a requirement that armed security guards be hired by a security company before a license is granted. License must be renewed every two years if you are still employed as an armed guard. Be prepared to answer personal information about any military discharge and criminal history.
Basic requirements for armed security guards in Tennessee:
Must be at least 21 years old
Must be a United States citizen or alien resident or application is denied
Mentally competent
Have good moral Character
No drug or alcohol use or dependence
No convictions in the last 5 years and that includes being on probation
Proof of residency for the past 5 year
No disabilities that would prevent performance of duty
Submit fingerprint cards (3) for background check from bother TBI and FBI
Successful complete training requirements
Submit completed application once notarized
Driver's License
Training Requirements
Four-hour course, one hour training for each:
Orientation
Legal aspects and limitations
Emergency procedures
Duty requirements
Note: Must receive and provide proof of appropriate firearms training and safety for the specific handgun that will be used on duty from a certified instructor. Upon completion of training, a certificate card of completion must be carried at all times.
Fees are nonrefundable:
Application fee: $75.00
Registration: $30
Fingerprints: $60.00
For more information, please call 615-741-6382.
Resources
Tennessee Private Protective Services – Get a License:
Contract Security Company
Proprietary Security Organization
Armed Security Officer/Guard
Unarmed Security Officer/Guard
Proprietary Unarmed Security Officer/Guard
Certified Security Guard Trainer
Assistant Security Guard Trainer