The Original and #1 Website for Security Guard Training
Online Security Guard Training and Career Center
Welcome to Security Guard Training Headquarters! We have everything you need to make your life easier as you begin your career as a security guard officer. State specific training requirements, a step-by-step hiring process, potential employers and interviews to help you get hired are just some of the helpful things you'll find here.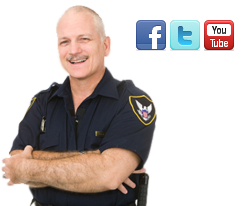 You must be licensed as an armed security in Oklahoma. This license is administered by CLEET and is renewed every two years. Before becoming an armed guard, you must first meet certain criteria including a psych evaluation.
Requirements for armed security guards in Oklahoma:
Must be at least 21 years old
Must be a citizen of the United States
Must be mentally competent as determined by a psychological evaluation
Have good moral Character
Must pass a police or Sheriff record check
Insurance letter from employer or surety bond
No drug or alcohol use or dependence
No felony convictions
No disabilities that would prevent performance of duty
Passport photos (2) in color
Submit CLEET fingerprint cards (2)
Successful complete training requirements
Complete all questions pertaining to armed security guard on application or it will be rejected
Application must be signed and notarized
Oklahoma driver's license
Good physical conditioning
Training Requirements
Must complete CLEET approved courses and pass the State exam within 180 days from the date of application.
Applicants with training, such as retired police officers, correctional officers, peace officers may be exempt from training requirements if they can so proof of previous training.
Note: Firearms training is also a requirement but cannot be taken until you have passed the psych evaluation.
Fees are nonrefundable:
License: $91
Psychological Evaluation: applicant can choose a licensed Psychologist and bear the cost of the evaluation
For more information, please see Security Guards New License Applicants also Applicant Checklist for Completed Application or call 405-239-5110.
Additional information may be found at the CLEET Training and Testing page.