The Original and #1 Website for Security Guard Training
Online Security Guard Training and Career Center
Welcome to Security Guard Training Headquarters! We have everything you need to make your life easier as you begin your career as a security guard officer. State specific training requirements, a step-by-step hiring process, potential employers and interviews to help you get hired are just some of the helpful things you'll find here.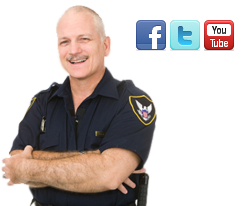 In New Mexico, a license is required for armed security guards. An armed security guard in New Mexico is considered a level three. Level three guards are required to meet the requirement of level one and two with additional hours of training.
Basic requirements for an armed security guard in New Mexico (All Levels):
Must be at least 21  years old
United States resident
High school diploma or equivalent
No felony convictions or misdemeanors associated with violence (which includes domestic), drugs ( use or sale), theft or fraud
Good moral character
Submit (2) passport photos
Submit fingerprint cards (2) obtained from the board office and certificate form
Copy of background history from employer
Successfully complete department approved training and examination
Signed and notarized release of information form
New Mexico state driver's license
Training and experience:
Completion of Level one and two training for New Mexico security guards, which consists of:
Level 1:
Your role as a security guard (1 hour)
First aid & CPR (8 hours)
Investigations (3 hours)
Interview skills  (2 hours)
Evidence Preservation (2 hours)
Protecting Assets (1 hour)
Chain of command (1 hour)
Writing reports (2 hours)
Courting testimony (1 hour)
Ethics and professionalism (3 hours)
Level 2:
Use of force (3 hours)
Weapons techniques (8 hours)
Baton handling (4 hours)
Handcuffing (4 hours)
Tasers (5 hours)
Additional Training:
Safety and Fire protection (4 hours)
Threat assessment (2 hours)
Safety awareness (1 hours)
Environment/hazardous materials (4 hours)
Firearms training (24 hours)
Fees:
All fees are non-refundable.
Application: $15
Background: $29.95
For more information, please call 505-476-4650.
Resources: