The Original and #1 Website for Security Guard Training
Online Security Guard Training and Career Center
Welcome to Security Guard Training Headquarters! We have everything you need to make your life easier as you begin your career as a security guard officer. State specific training requirements, a step-by-step hiring process, potential employers and interviews to help you get hired are just some of the helpful things you'll find here.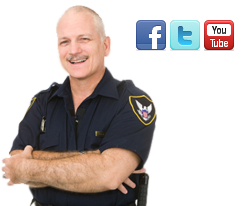 Armed security guards in New Jersey must be licensed. In addition, additional training, which includes firearms training, is required. After all requirements are met, license is administered by the New Jersey Superintendent's office.
Basic requirements for Armed Security guards in New Jersey:
You must be at least 18 years old
United States citizen or legal alien
Valid social security number
No felony convictions or any crime involving the illegal use of weapons
Written consent to a criminal background check
Good moral character
Mental competency to perform job
Fingerprinting
Passport photo
New Jersey driver's license
Successfully complete classroom and firearms training
Training Requirements
You must complete a state approved security-training course within 30 days of hire. You are responsible for finding a certified training course. The 24 hours of course study may include but not limited to:
Counteract terrorism
Emergency response
Prevention of theft
Use of force
Detaining a suspect
Professional Conduct
Ethics
First Aid
Firearms Training
You must apply for a weapon permit at your local New Jersey police department for requirements as each city and county may vary. However, may be expected to successful complete a firearms safety course, which covers handling your weapon as well as range training.
Fees
Application $75 ($50 for application and $25 registry surcharge)
Fingerprinting $70.25
For more information, please call 609-341-3426 or 609-633-9352.
Resources