The Original and #1 Website for Security Guard Training
Online Security Guard Training and Career Center
Welcome to Security Guard Training Headquarters! We have everything you need to make your life easier as you begin your career as a security guard officer. State specific training requirements, a step-by-step hiring process, potential employers and interviews to help you get hired are just some of the helpful things you'll find here.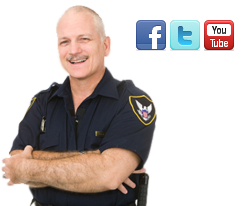 Armed security guards in Nevada must have a registration card and pass the security guard exam with a score of 100%. In addition, additional training, which includes firearms training, is required. After all requirements are met, the Private Investigating Licensing Board (PILB) will issue your registration card and firearms permit.
Basic requirements for Armed Security guards in Nevada:
You must be at least 21 years old
United States citizen or legal alien
Valid social security number
No felony convictions or any crime involving the illegal use of weapons
Successfully pass a criminal background check
Fingerprint cards (2)
Passport photo
Nevada driver's license
Pass security guard exam
Security Guard Exam
This exam must be taken every five years with a passing score of 100%. Either you can take it online to submit with your application or the hiring security company will administer the exam.
Application
You must complete all fields. If a field does not apply to you then you must put "N/A" as an indicator that you have read the field and it does not apply to you. Application is incomplete unless all required information is submitted to the office of the PILB.
Firearms Training
Upon completion of your firearms training, with a certified instructor, you will be administered a firearms certification card. Card is valid for five years as long as you pass a firing range test with a score of at least 75% every six months.
Fees
With fingerprint card $85
Without fingerprint card $95
For more information, please call 775-687-3223 or 702-486-3003.
Resources