The Original and #1 Website for Security Guard Training
Online Security Guard Training and Career Center
Welcome to Security Guard Training Headquarters! We have everything you need to make your life easier as you begin your career as a security guard officer. State specific training requirements, a step-by-step hiring process, potential employers and interviews to help you get hired are just some of the helpful things you'll find here.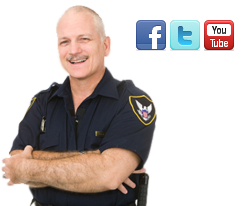 In the state of Indiana, it is up to the hiring company whether a license is required for a security guard. The licensing process is governed by the Statues & Rules IC 25-30-1-11 Employees of licensee; a security guard can be hired under the licensee, which is the hiring company. The hiring company is responsible for that security guard and must supply a photo ID and fingerprints of each security guard that isn't licensed, if requested. Now here is where matters get gray. The statues do not address armed security guards for Indiana; therefore, it is left up to the county. However, on the Indiana State website there are requirements expected for those who want to license a firearm.
For companies that require you to be licensed as an armed security guard, you must first meet certain criteria:
Must be at least 21 years old
Must be a United States citizen or registered resident alien
High school diploma or equivalent
Must be finger printed
Submit to FBI background check
No felony convictions or any crime involving the illegal use of weapons
Drug testing (which may be ongoing
Completed of Indiana state certified training courses set forth by the Department of Public Safety for Indiana
Requirements of Weapons Permit:
If needed, please see licensing regulations or follow the requirement set forth by hiring company.
For more information, please visit Indiana Professional Licensing Agency or call (317) 234-3040.