The Original and #1 Website for Security Guard Training
Online Security Guard Training and Career Center
Welcome to Security Guard Training Headquarters! We have everything you need to make your life easier as you begin your career as a security guard officer. State specific training requirements, a step-by-step hiring process, potential employers and interviews to help you get hired are just some of the helpful things you'll find here.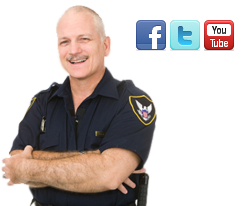 Armed security guards in Illinois must be licensed. In addition, additional training, which includes firearms training, is required. After all requirements are met, the Illinois Department of Financial and Professional Regulation will issue your license.
Basic requirements for Armed Security guards in Illinois:
You must be at least 21 years old
United States citizen or legal alien
Valid social security number
No felony convictions or any crime involving the illegal use of weapons
Successfully pass a criminal background check
Fingerprinting
Passport photo
Illinois driver's license
Successfully complete classroom training, firearms training and written exam
Training Requirements
You must successful complete 20 hours of training which covers the basic responsibilities of an armed guard, laws and regulations of Illinois, ethics, writing reports, dealing with the public etc.
Firearms Training
In addition to the 20 hours listed above, you must successfully complete 20 hours of firearms training, which includes handgun safety, handling your weapon and time on the fire range. Each qualified candidate must fire 50 rounds from their handgun at an accuracy of at least 70%.
For more information, please call 217-785-0800.
Resources