The Original and #1 Website for Security Guard Training
Online Security Guard Training and Career Center
Welcome to Security Guard Training Headquarters! We have everything you need to make your life easier as you begin your career as a security guard officer. State specific training requirements, a step-by-step hiring process, potential employers and interviews to help you get hired are just some of the helpful things you'll find here.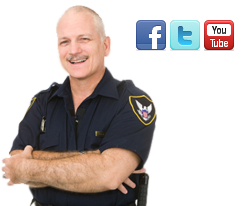 An armed security guard must be licensed in Delaware. A commissioned or arm security guard must meet the basic requirements of a security guard that is not armed with a few extra requirements. Once all requirements are met, the license is administered by the Delaware Department of Public Safety. The license is good for two years and must be valid while employed. To keep license current, yearly courses must be completed.
Basic requirements:
Must be at least 21 years old
Must be hired by a licensed company
Drug testing (which may be ongoing)
Complete background check and finger prints
Must be a United States citizen or registered resident alien (provide proof that you are legally able to work in the US)
No felony convictions or any crime involving the illegal use of weapons (that includes violent misdemeanors and assault lll or offensive touching in the last three years)
Must complete a 16 hour certified training course by the state of Delaware before applying for license
Good physical conditioning
Additional Requirements for armed security guard in Delaware:
Three hour course (firearms)
Shooting range (must discharge gun at least three times a year)
Submit new finger print cards
Pay for new registration card
Fees:
Registration identification card is $20
Application fee is $69
Other fees may apply
Once you have successfully completed the certified course, you can apply for your license as armed security guard by calling (302) 672-5304 to set up an appointment. For more information, please visit the Delaware State Police Department.