The Original and #1 Website for Security Guard Training
Online Security Guard Training and Career Center
Welcome to Security Guard Training Headquarters! We have everything you need to make your life easier as you begin your career as a security guard officer. State specific training requirements, a step-by-step hiring process, potential employers and interviews to help you get hired are just some of the helpful things you'll find here.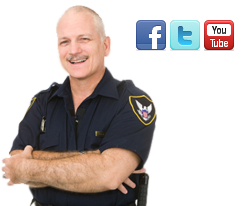 In the state of Arkansas, an unarmed security guard is referred to as a commissioned officer and must be licensed. The hiring company is responsible for firearms training and must have a licensed training manager in place to contact said training. In addition, potential applicants must meet other basic qualifications.
Basic Requirements:
Must be at least 21 years old
Must be a United States citizen or registered resident alien
High school diploma or equivalent
Have good moral character
No felony convictions or any crime involving the illegal use of weapons
Have not committed any acts of fraud
Drug testing (which may be ongoing)
State driver's License
Good physical conditioning
Must have successfully completed unarmed security guard training
Must complete all requirements on application
Firearms training requirements for armed/commissioned officers in Arkansas:
Legal Limitations (1 hour)
Weapons Safety (1 hour)
Marksmanship (1 hour)
Firing range (1 hour)
Safety rules
Fees:
Application: $40.00
Background check: $41.25
For more information, please call 501-618-8600 or visit the Arkansas State Police Regulatory Service Section. Also, depending on your current private security status in Arkansas, you may be interested in reviewing the Upgrade Form for Private Security Officer (PSO) to Commissioned Security Officer (CSO) or Commissioned School Security Officer (CSSO).