The Original and #1 Website for Security Guard Training
Online Security Guard Training and Career Center
Welcome to Security Guard Training Headquarters! We have everything you need to make your life easier as you begin your career as a security guard officer. State specific training requirements, a step-by-step hiring process, potential employers and interviews to help you get hired are just some of the helpful things you'll find here.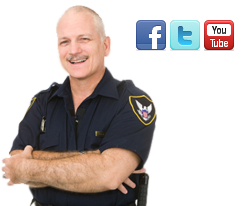 A license for armed security guards in Arizona is a requirement. In addition, you must be offered an armed security position with licensed security agency. License issued by the Arizona Department of Public Safety. Other basic requirements that must be met are as follows:
Basic requirements for Armed Security guards in Arizona:
Must be at least 18 years old
United States citizen or legal alien
No felony convictions or any crime involving the illegal use of weapons
Never disqualified from owning a firearm
Successfully pass a criminal background check
Fingerprinting
Front facing color photo (recent)
Pass drug testing may be required
Good moral character
Arizona driver's license
Weapon permit from Arizona State
Submit training verification that you've completed 8-hours of a security guard training
Application
Application must be completed by both the applicant and the employer and it must be signed by all parties.
Fees:
Application and fingerprinting $124
Firearm Requirements
Successful completion of 16-hours of firearms training and safety by a certified instructor
Demonstrate the ability to handle your weapon
Annual refresher training
For more information, please call 602-223-2000.
Resources