The Original and #1 Website for Security Guard Training
Online Security Guard Training and Career Center
Welcome to Security Guard Training Headquarters! We have everything you need to make your life easier as you begin your career as a security guard officer. State specific training requirements, a step-by-step hiring process, potential employers and interviews to help you get hired are just some of the helpful things you'll find here.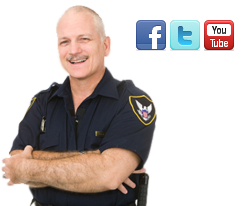 Security guards in Alabama are classified under different areas, such as security, military security guards and youth services security officer. Each has their own particular requirements. However, there are basic requirements for non military armed security guards that much be met and being licensed is one of them.
Basic requirements for Armed Security guards in Alabama:
Must be at least 21 years old
High school diploma or GED
United States citizen or legal alien
No felony convictions or any crime involving the illegal use of weapons
Successfully pass a criminal background check, including fingerprinting
Pass drug testing
Good moral character
Alabama driver's license
Good physical conditioning
Pistol permit from Alabama State
Weapon Permit and Additional Training
Depending on the city or county these requirements will vary. It is best to contact your local Police department to find out the exact requirements to obtain a pistol permit in Alabama. However, basic requirements may be as follows:
Successful completion of firearms training and safety by a certified instructor.
Further background check conductedt
Annual refresher training
For more information, please read State of Alabama Security Guard I visit or call 334-242-3389.
Resources
Security Guard Training Centers in Alabama
The following are the officially recognized security guard training centers in Alabama, as approved by the Alabama Security Regulatory Board.
Alabama Professional Security Training Academy (APSTA)
140 Mendel Parkway, Montgomery, AL 36117
Kathy Allen, Training Coordinator
334-272-6767
Email: [email protected]
Website: http://securitytrainingal.com
---
A.T.S.P.I
Website: http://www.ATSPI.net
Contacts:
Ray Byers 334-391-0148
Edward McCloud 334-467-5581
Email: [email protected]
---
DTA Security Training
1001 South Hull St.
Montgomery, AL 36104
Website: www.dtasecurity.org
Harry Christian
Office: 334-832-2222
Fax: 334-832-4379
[email protected] Barry Pendergraft
Telephone: 256-682-3760
Fax: 256-489-4588
Email: [email protected]
---
Southern States Security Academy
1203 Meadow Drive
Birmingham , AL 35242
Telephone: (256) 207-6369
Inst. William Royal CT20095
[email protected]
---
Workable Solutions Investigative & Protective Services, LLC
Loyd L. Jenkins, III
Chief Training Officer/Assistant Chief
Police Assistant Chief/APOST Instructor
2778 Gunter Park Drive East, Suite A-B
Montgomery, AL 36109
Tel: (334) 262-0432 or (334) 239-9934
Cell: (334) 220-5343
Fax: (334) 262-0499
Email: [email protected]
Web: www.workable-solutions.org/training-academy
---
RENAM Security Training, LLC
1910 2nd Ave North
Bessemer, Alabama 35020
Trainer: Benjamin T. Maner
Email: [email protected]
Cell: 678-457-0402
www.RENAMsecuritytraining.com
---
Spear Group
Charles Donaldson
205-739-8097
www.speargroupsec.com
E-mail : [email protected]