The Original and #1 Website for Security Guard Training
Online Security Guard Training and Career Center
Welcome to Security Guard Training Headquarters! We have everything you need to make your life easier as you begin your career as a security guard officer. State specific training requirements, a step-by-step hiring process, potential employers and interviews to help you get hired are just some of the helpful things you'll find here.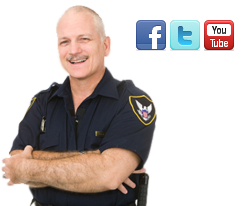 Allied Universal Security Services has a long history in the security industry in the USA. Founded in 1957 in Pennsylvania, the company has been providing its expertise in the security services for many industries ranging from Education and Healthcare to Manufacturing and Oil & Gas. Allied Universal employs more than 60,000 people in 120 different offices and currently has security contracts with 200 of the fortune 500 companies.
Allied Universal has become a success due to their approach. They attribute their success to a mixture of their approach in development, top training programs and employee engagement programs while nurturing the client relationship by providing the customer a customized security package that fits their needs be it budgetary or safety.
The company also customizes the way they approach account management by providing account managers on site or by using their Client Value management. Allied Universal also leverages their national security support network to provide the best local support for its clients through additional staff and resources should the need arise.
Allied Universal Training
Allied Universal believes that providing quality training provides quality employees as such. In fact, no Allied Universal employee can begin their career at the company without first undergoing through the training program. The preparation ensures that the employee is able to provide the highest level of service to any existing or future customer always.
Dubbed Allied Universal EDGE (Educate, Develop, Grow & Engage), the training program according to Allied Universal is described as:
Convenient : This ensures that officers and managers alike have accessible information at all times through various methods of teaching like:

eLearning Modules : If you prefer self-study in personal time, Allied Universal's modules can be found online and include reading materials as well as videos & podcasts.
Classroom Instruction : For employees and candidates that prefer a mentor, the company hires trainers and teachers that have previous experience
Formalized On-the-job Training: Experience is the number one teacher, having a well-trained officer as a supervisor and mentor speeds up the training while also training the officer on the proper customer service for their specific client.

Compliant: Using evaluations and reports, the company makes sure that its future and current employees have been trained properly
Dedicated training community network: This network of employees creates a friendly environment for inquiries and discussion that can further an employee's knowledge for the security industry
Customized: Certain industries have much stricter rules and regulation or require different skill sets from the security officer, a customized training program ensures that the guard is prepared for any issues while dealing with their responsibility in the correct fashion.
Allied Universal Careers
Screening Process
To ensure Allied Universal Security Services jobs are filled by the most competent people, the candidates must go through a screen process which includes:
Background Checks: Done by a third party
Drug Testing: Allied Universal maintains a drug free work environment
Interview: This will be done in person to ensure the candidate has the correct social, communication skills as well as personality
Training Program: after completing the Allied Universal training program, Master Security Office Level One, you must pass the exam
Qualifications
After passing the background check, drug test and the training program created by the company, you will be asked for Allied Universal jobs. The Allied Universal job application process might require certain qualifications before selected:
Experience: Some Allied Universal Security Services jobs requires that the applicant have experience be it from military or previous security jobs
Age: 18 or above depending on the contractual requirements
Education: A High school diploma or a GED is required, if you don't possess either, five years of previous work experience is enough
Social: Providing the best customer service during the job requires the officer to be social and approachable
Team-player: Some Allied Universal Security Services jobs might team you up with other people, being able to work in a team could add to your chances of being hired
Communication skills: Being able to express yourself correctly is very important for a security guard be it during verbal encounters or while writing reports
Attendance: Being always on-time and with a perfect attendance lets the company and client know that you are a dependable asset
Appearance : Appearance is very important for security guards because it lends them the credibility they require to perform their job properly
Customer Service: Being able to serve and protect the client efficiently and professionally is a vital requirement and part of the company's core approach to its business
Crisis Management: As a security guard, you will be the first point of contact during an emergency. Knowing what to do during times of intense pressure is of utmost important
Benefits
To be a leader in the security industry and maintain its excellent work staff, Allied Universal offers its employees the following benefits:
401(k) Plans: the company contributes up to 75% depending on the employee's seniority and experience to ensure the security officer ensures a proper retirement
Employee Relations Managers : Using experienced managers, the company ensures its employees are content with their work while maintaining the compliance policy set by the company
Medical Benefits : Being a security guard is a physically taxing job which requires a plan that is both comprehensive as well as affordable
Free Life Insurance
Performance Incentives : Incentives keep employees content, boosts their loyalty while making sure they continue their excellent performance with high morale
Military Veterans
If you have served your country and are returning from active duty, there are many Allied Universal Security Services careers for you. The establishment prides itself with its award winning Hire Our Heroes program which highlights the importance of hiring veterans. Allied Universal prefers hiring military and makes it one of its key tenets because of the following:
They are team players
They are punctual
They are loyal.
They are already well trained with firearms and combat arts by some of the best combat specialists in the world
They have passed various security checks
Related Links