The Original and #1 Website for Security Guard Training
Online Security Guard Training and Career Center
Welcome to Security Guard Training Headquarters! We have everything you need to make your life easier as you begin your career as a security guard officer. State specific training requirements, a step-by-step hiring process, potential employers and interviews to help you get hired are just some of the helpful things you'll find here.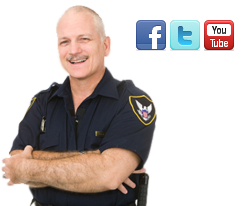 In an ever faster and more expanding world, the need for first class airport security officers are now in greater demand than ever before. As we travel faster and further, our need for a complex system of security grows. And so we enter the world of Airport security.
On the one hand, man-made security equipment is increasingly more adapted to an increasingly more dangerous world. Sniffing out the innocent from the evil doers. Technology is growing in the complexity and use. Useless without the Airport Security Guard operating these machines.
Not only would you be required to learn the use of this specialized equipment, but also to provide an excellent customer service. As your main role will be to serve people, of all nations, creeds, ethnic backgrounds, religions and ideals — your compassion and tolerance would be one of complete zen. Working with a smile yet never undermining the enemy of all people. Those who would harm others.

Responsibilities of an Airport Security Guard Role
Main Role:
Establishing a safe environment for passengers as they start their journeys.
Comply with all security requirements in a professional manner
Operate X-Ray equipment, search passengers, checking luggage and ID vehicles while being part of a multi-disciplined team.
Interacting with people from different countries and cultures.
Secondary Roles:
The role of a an airport security officer varies from day to day; you will have to be aware of your surroundings and deal with situations as they arise. Responsibilities typically include:
Ensuring that premises are patrolled in a timely and efficient manner.
Monitoring all activity inside and outside a premises through observation and closed circuit television.
Signing visitors into a building and ensuring the sign back out.
Checking suspicious packages.
Logging the traffic within buildings. Ensuring only authorized personnel frequent relevant buildings.
Record any suspicious activity and take required action.
Guarding valuables or cash (typically in a secure vehicle).
Maintaining airport security by searching baggage and guarding airport exits and entrances.
Communicating relevant information to other security officers via walkie-talkies or other communication devices such as mobile phones etc.
Dispensing directions and other information to visitors.
Writing reports for the police or courts as well as to management.
Conducting general reception duties, such as answering the telephone.
Creating and distributing building access cards.
Managing the car park.
Skills Required:
Be good at communicating.
Having the ability to work well under pressure.
Having awareness and being assertive when situations arise.
Being able to follow and give directions.
Being able to recall information when required.
Must have the ability to work within a team structure.
Be accurate and pay attention to details.
Have a flexible skill set when the need arises.
Have a basic knowledge of customer service skills. (Prior customer service skills beneficial)
Personal Qualities:
Must be able to work shifts including weekends and Bank Holidays.
Smart appearance with no visible tattoos. Neck and hands are unacceptable.
Be a team player, but have the ability to work without supervision.
Strong interpersonal skills.
Confident in dealing with difficult customers.
Take initiative.
Friendly manner.
Professional and tactful approach to situations.
Reliable,dependable and punctual.
Physically fit with good sight and hearing.
Where to Find Airport Security Jobs?
Unless you are happy to travel far to work, being hired for an airport security job, usually requires relocation, as most airports are found outside the city center. Larger cities will usually accommodate more than one major airport — take New York for example with seven airports. John F. Kennedy International Airport serves over 100,000 people a day, therefore the demand for airport security guards is in high demand. The remaining airports, albeit smaller are still serving thousands of passengers, and still require a good amount of security officers to maintain key aspects mentioned above.
Career Progression:
In terms of career progression, there are plenty of roles you can develop into — you could progress to a supervisory role or become a manager, area manager or chief security officer. If you manage to impress as an airport security officer then there are excellent promotion prospects for you and the great thing is the airport company will be more than willing to pay for your training. You could go on to become a Security supervisor/team leader in the airport (better pay than other supervisory roles), manager of security within the airport or working for the immigration department..
Even if you don't plan to stay in an airport security position itself the experience of working as one will be a great and credible part of your CV. Major companies hold this experience in high regard and will look favorably on this background.
Final Thoughts and Conclusions:
Relevant work experience is not essential for finding work as an airport security officer but it will be useful. Experience working in the army or police force is a major advantage. Any previous experience working in a general customer-focused job or in a manual role will also be beneficial. Not everyone can get into an airport security role. Fulfillment of the above requirements is essential, as well as a criminal background check. To be an airport security officer you have to be trustworthy, honest, polite and non-judgmental. It is easy to specialize in a particular area of the job, however different roles require different skills. This might be something to bear in mind if you are thinking of pursuing a specific role within the airport security industry.
Airport Working Conditions for Security Guards:
Airport security officers often work long hours. The job usually involves some evening and overnight work on a shift basis but security officers may also be required to work overtime at short notice. In-house security jobs are usually based at an airport or office but other jobs could involve driving long distances with valuable goods. Airport security officers are well-trained to keep risk to a minimum, but at times the role can be dangerous. As an officer you should expect to deal with unpleasant and confrontational situations on occasion.
Airport Security Salary and What to Expect
The salary is predetermined by the official body — the Transportation Security Administration. Airport security jobs typically start on between $17,000 and $25,000 a year for band A, but it raises with experience. The highest salary you can expect is between $121,438 and $157,100 per year in senior and principal security roles. For more details on salaries, check out the official TSA site*.
*source: https://www.tsa.gov/careers/pay-bands