The Original and #1 Website for Security Guard Training
Online Security Guard Training and Career Center
Welcome to Security Guard Training Headquarters! We have everything you need to make your life easier as you begin your career as a security guard officer. State specific training requirements, a step-by-step hiring process, potential employers and interviews to help you get hired are just some of the helpful things you'll find here.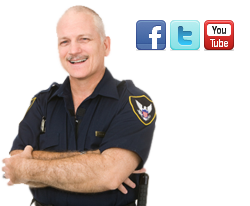 In North Carolina, unarmed security guards are required to be licensed/registered. Certain basic criteria must be met first before applying.
Basic requirements for an unarmed security guard in North Carolina:
Must be at least 18 years old
United States citizen or resident alien
No felony convictions or misdemeanors associated with violence (which includes domestic), drugs ( use or sale), theft or fraud in the last 5 years
Good moral character
Submit (2) recent passport type photo (one inch by one inch)
Submit fingerprint cards (2)
Certified copy of criminal background history for the last 48 months
Successfully complete department approved training within 30 days of hire
Employee of a private security company and under supervision from a licensed patrol officer
Other Requirements that May Be Helpful:
Driver's License
Good Communication skills
Good physical conditioning
Be able to stand long periods of time
Training Requirements: Must complete 16 hours of classroom training
The Security Officer in North Carolina — (minimum of one hour)
Legal Issues for Security Officers — (minimum of three hours)
Emergency Response — (minimum of three hours)
Communications — (minimum of two hours)
Patrol Procedures — (minimum of three hours)
Note Taking and Report Writing — (minimum of three hours)
Deportment — (minimum of one hour)
Fees: All fees are non-refundable
Application: $30
For more information, please see the North Carolina General Statues or call 919 431-300 or contact the:
Private Protective Services Board
P.O. Box 29500
3320 Old Garner Rd.
Raleigh, NC 27626-050
Top 10 Security Interview Tips That Will Get You The Job TODAY!
Learn exactly what security
guard employers want to
hear from you!
Download this FREE eBook
now by entering your email
address below:
Please make sure that you have filled in the fields correctly!