The Original and #1 Website for Security Guard Training
Online Security Guard Training and Career Center
Welcome to Security Guard Training Headquarters! We have everything you need to make your life easier as you begin your career as a security guard officer. State specific training requirements, a step-by-step hiring process, potential employers and interviews to help you get hired are just some of the helpful things you'll find here.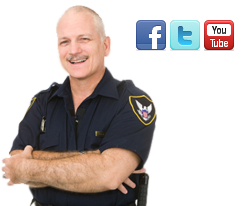 Would you like an additional 10-20 students signing up for your classes every month at no additional cost or work to you?
Are you a savvy business owner and understand the value of increased exposure for your business?
Do you want free advertising for your business?
If you said yes, then our Course Partnership may be the right for you!
What is the Course Partnership?
We partner with security training centers across the USA and list their courses on our website and send your facility new students.
Over 35,000 people visit our website every month looking for security guard training. These are all potential customers for you!
How Does It Work?
You list your courses with us.
Students register with us for one of your classes.
We send you the student's confirmation email with the date of their class and their contact info.
That's it! Our booking software allows a student to sign up for your classes directly on our website. No hassle. No fuss.
Why Your Should Join the Course Partnership:
Extra Income: Anyone that signs up through our website would be an additional customer that you otherwise wouldn't have. The cost of running your classes is the same whether or not you join the Course Partnership. We deliver extra students on top of your regular signups, therefore increasing your revenue!
Beat Your Competition: Partnering with us ensures that students looking for training in your area find YOU and not one of your competitors.
You Keep The Student: Once a student takes their training with you, they are much more likely to return to you in the future when they need additional training and then you would be capturing their sale at 100%.
Bottomline – partnering with us makes you more money!
More Benefits of the Course Partnership:
Get to the top of Google: We often rank in the top 3 spots in Google for "security guard training + [state]" search terms. Go ahead and check it out for yourself. Go to Google and type in "security guard training + [your state]" to see where we rank (it's best if you use a private browser to get true results).
This is how we drive over 35,000 people to our website every month and partnering with us effectively puts your company at the top Google!
Be a part of our mission: Our mission is to connect people looking for security guard training with the best information and training available. We are only looking for reputable partners who will deliver on this mission. We take our brand, our customers, and our partners very serious and prioritize them over everything else.
This means that we will do everything in our power to deliver on our promises.
Additional Marketing Coming soon:
Phone support
Partnership Links Page- links to your website increasing your SEO score
Course Reviews
Partner Interviews
Customer Testimonials
The opportunities are endless and we are committed to providing value to you and your students.
How Much Does The Course Partnership Cost?
The Course Partnership is commission-based. We only get paid when you get paid.
For every student we send you, we take a 35% commission on the sale. This fee goes to supporting our overhead and operating expenses such as running the website and providing customer support.
There is an initial set up fee of $29 because we have to manually go in and add your courses to our platform (contact us to see if you're eligible for this fee to be waived).
There are NO monthly fees for the Course Partnership and you can cancel your partnership at any time!
Example Of The Course Partnership In Action:
Watch this video to see:
How high our website ranks in Google
What a student will see when they come to our website
How a student will navigate to your course listings
The actual registration and checkout a student will go through when they sign up for your class
The confirmation email you will receive when a student books your class
How Do I Get Started?
To apply for the Course Partnership, please fill out the form below.
We will contact you within 24 hours to discuss listing your training schedule. As soon as a student books your class, you get paid!
[ninja_form id=5]